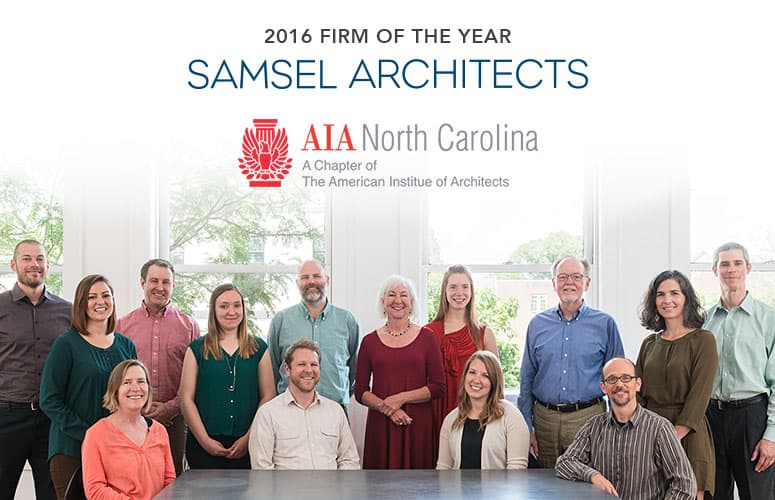 Samsel Architects Named 2016 Firm of the Year by AIA NC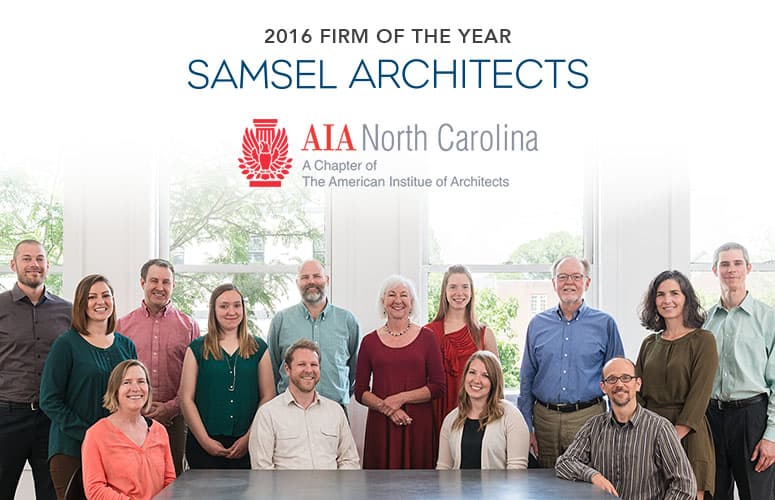 We are excited and honored to announce that our firm was named the 2016 Firm of the Year by AIA North Carolina! The Firm Award is given every year to one North Carolina firm that has consistently produced quality architecture with a verifiable level of client satisfaction for at least 10 years. This award is the highest honor the Chapter can bestow upon a firm. Our firm has been committed to delivering quality design that is grounded in a keen sense of place and detail, stewardship of the environment, and strong client relationships.
We would like to extend our gratitude to AIA NC as well as our clients, community, collaborators, and especially our staff for their significant contribution to our success. We couldn't do it without you all. Thank you! We would also like to congratulate the many other North Carolina firms on their awards and accomplishments; there is a wealth of inspiring design being produced in our state.
The nomination for the award comes from Alan McGuinn, FAIA, LEED AP of Arca Design who said, "I can unequivocally confirm that Samsel Architects is widely held in high esteem for their design excellence and civic leadership in not only our community, but the state and the Southeast region."
Preservation and rehabilitation of downtown Asheville has been at the heart of our work since the beginning. Since the mid-80s, Samsel Architects has worked on over 30 revitalization projects in downtown Asheville and we remain committed to historic preservation and appreciating the places that are meaningful to our community.
At the AIA NC awards ceremony in Winston-Salem on November 10, we also received two awards for our residential work.
A Residential AIA NC Honor Award was given to The Hammock House, a home that brings a distinctly modern element to a rural farm. The home is a modern interpretation of utilitarian farm structures in the area and is carefully oriented around a towering old-growth oak tree.
A Residential AIA NC Merit Award was given to the Fontana Lake House, a contemporary retreat nestled into the hillside above Fontana Lake. This home achieved a LEED Gold certification, a rating system conceived by the United States Green Building Council that assesses the environmental performance of a home.
We look forward to serving our community and creating enduring designs for many years to come.
For more information on the AIA NC Firm Award, visit www.aiancawards.org.