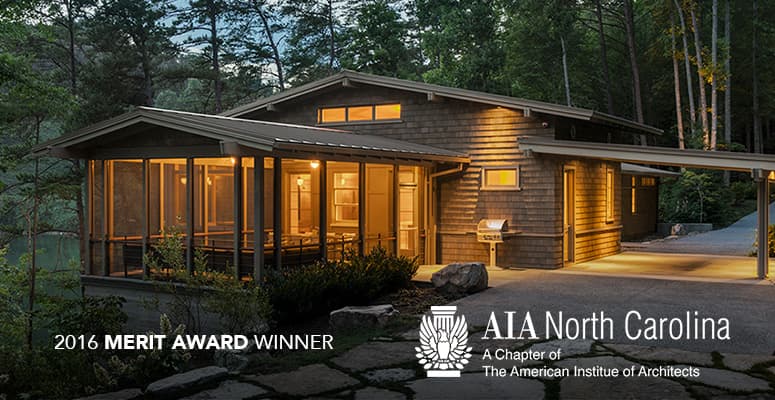 Fontana Home Wins 2016 Merit Award from AIA NC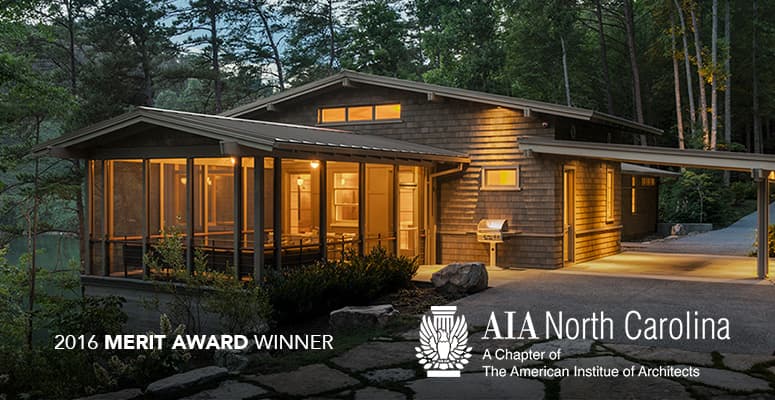 Our Fontana Lake House was recently awarded a 2016 Merit Award from AIA North Carolina. This state award is given out every year to recognize quality in residential design.
The Fontana house is LEED Gold certified and serves as a serene retreat for a family of four. It is situated almost at the water's edge with generous views of the lake, the surrounding forest, and the passenger train bridge in the near distance. The home's design was inspired by its surroundings. It blends into the wooded hillside through use of a neutral color palette and natural materials. Inside, simple forms and clean lines are used throughout to create a peaceful atmosphere for this family to enjoy. Some green features of this home include low or no V.O.C finishes, LED lighting and energy efficient appliances.
We are very proud of this house and would also like to thank Traci Kearns of Alchemy Design Studio, Bill Baxter of The William Baxter Company, and Hutch Kerns of Kerns Land Planning + Design for their contributions. Congratulations to the entire project team! See the winning submission at aiancawards.org.