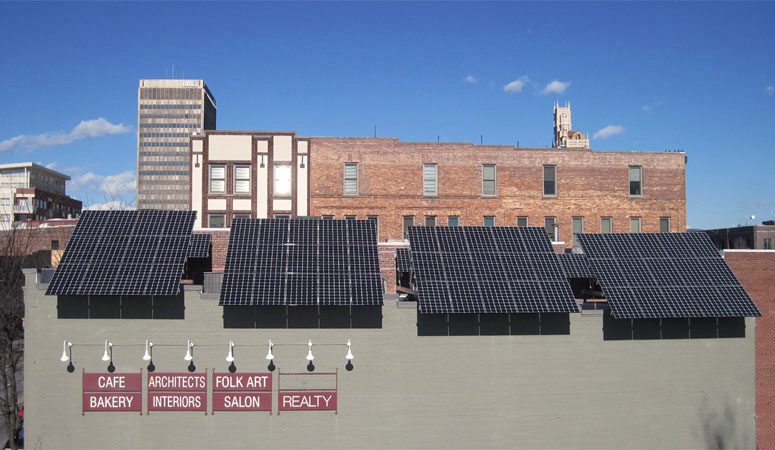 Three Years of Solar Energy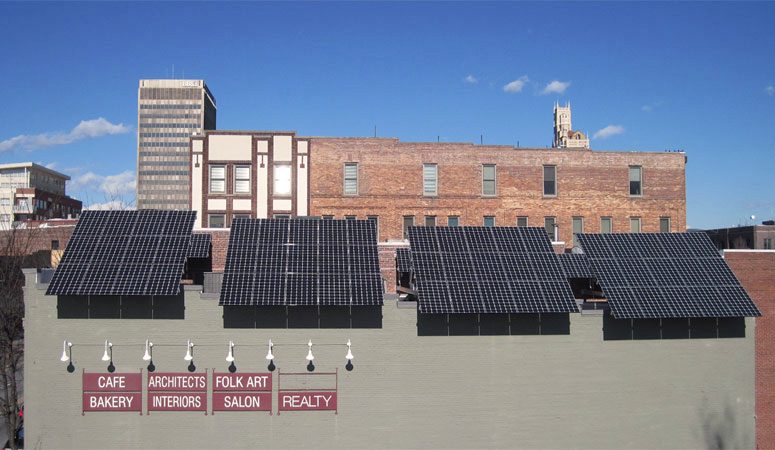 This spring marks three years since the Samsel Architects studio has been using solar power. In early 2014, a series of solar panels were placed in service on the roofs of 60 and 64 Biltmore Avenue, with four large photovoltaic (PV) arrays cantilevered off the building. The four cantilevered panels are visible from street level and make a powerful statement that our community embraces sustainability and innovation.
Our unique solar installation, by Sundance Power Systems, is the result of design challenges that were posed by a roof with many obstructions and limited space. Mounting fifty-seven of the one hundred and seventeen modules that comprise the 34 kilowatt system on customized racking allowed for maximum energy production for Samsel Architects and American Folk Art & Framing.
Since the PV arrays were connected to the grid, our firm has been monitoring our energy consumption closely and we have definitely reduced our need for carbon-producing grid power. We have had several months that we produced more energy than we used. On the flip side, however, there are months we've used more grid power than we produced. Those months where we used more than we produced inspired us to find even more ways to reduce our energy consumption.
In 2015, Samsel Architects put together a Sustainability Statement, a formal policy that outlines our studio's commitment to a more sustainable future. This policy guides our employees on their day-to-day in order to raise their awareness of our environmental impact. This policy includes recycling, composting, and an office supply purchasing policy that favors local products. We also promote energy efficiency internally by encouraging employees to maximize the use of natural light in our studio and shut down computers at the end of the day. In the past year that these efforts have been observed, we have achieved almost 50% reduction in energy use, on average.
To read our studio's Sustainability Statement, click here.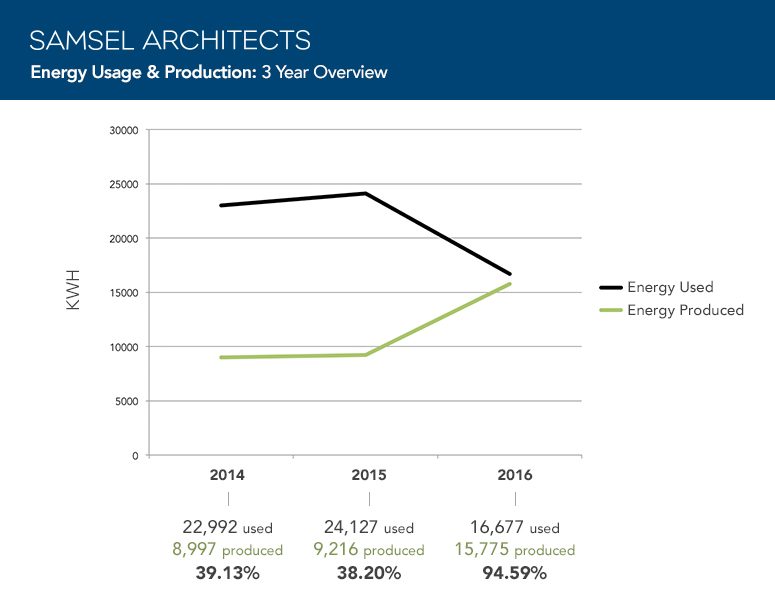 Above: Chart of our energy usage vs production the past three years. After making some studio improvements, getting the solar panels cleaned and instituting our Sustainability Statement, we've made vast improvements.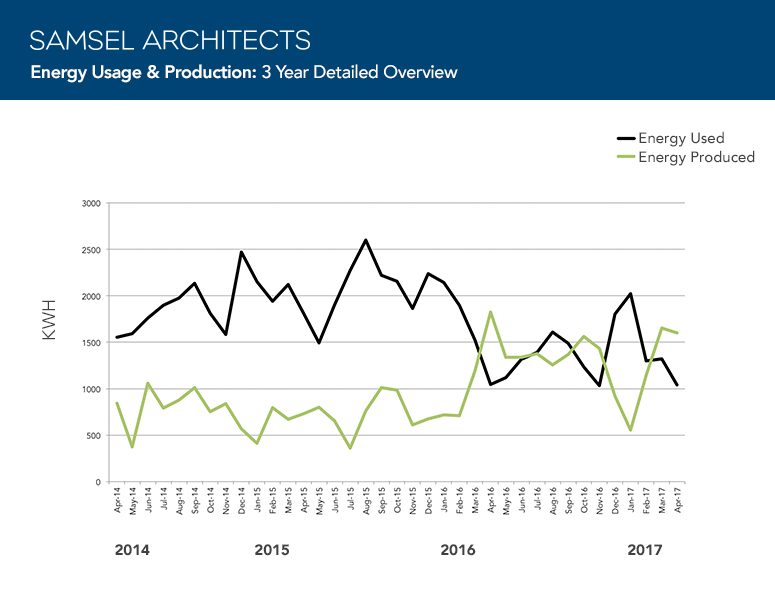 Above: Month-to-Month breakdown of our energy use vs. production.
Going Carbon-Neutral
Our studio is happy to say we are carbon-neutral thanks to our participation in the Appalachian Offsets Program. This program was started by the WNC Green Building Council and gives businesses, organizations and individuals in the region a way to offset their emissions by paying into a community fund that helps make energy-efficiency improvements within local nonprofits, schools and low-income housing. The goal is to reduce the global impact of climate change while making a local impact through upgrading inefficient lighting and supporting use of clean energy. Projects will be transparent, ensuring that buyers know which specific projects their contributions help fund.
We are happy to be able to offset our emissions and contribute to funding conservation and renewable energy projects that benefit our community and encourage others consider donating. Individuals, households and businesses can make contributions based on how much carbon they emit themselves, calculating their share with a user-friendly application online. In general, it costs about $20 to offset a ton of carbon, according to the website. A carbon calculator for businesses and individuals to determine their footprint and to learn more about projects to be supported by the offsets is available at www.cutmycarbon.org.