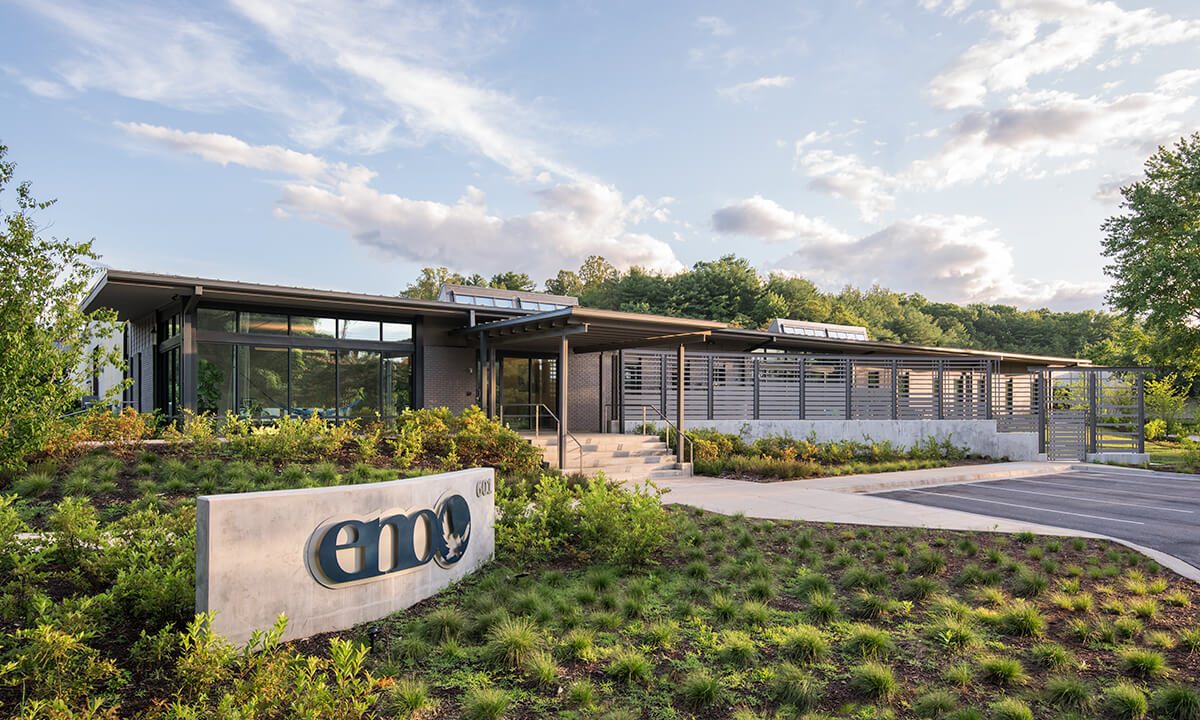 Modern Office Renovation for ENO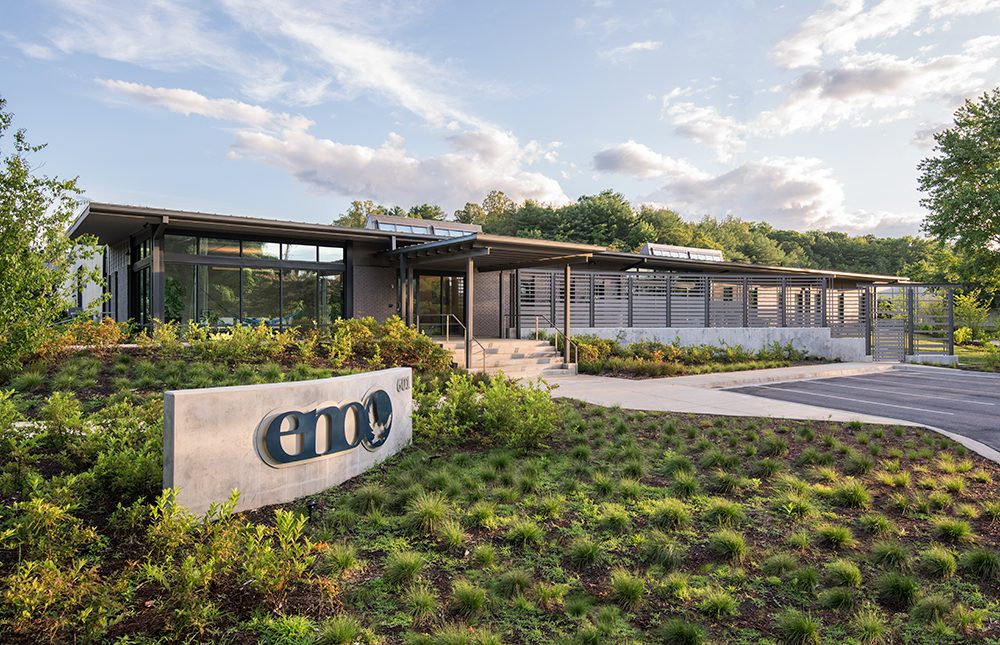 Eagles Nest Outfitters (ENO), an Asheville-based outdoor company, challenged our studio to take a dingy office building from the 80s and transform the space into a day-lit, modern office. The space needed to enhance creativity, collaboration and productivity while also conveying a strong connection to the outdoors. Stripping the building down to its bones allowed us to give ENO the office they were envisioning – a functional and beautiful space that embodies professionalism, fun and a sense of calm.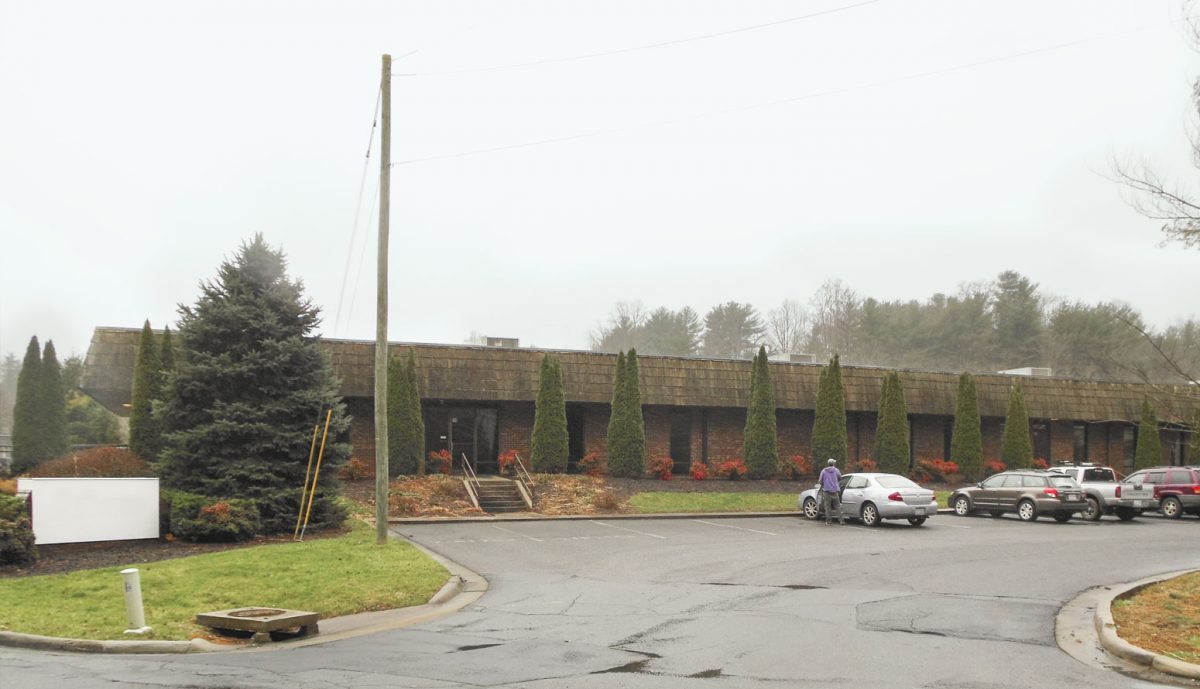 ENO had outgrown their downtown Asheville location and approached our studio to design a modern office renovation for their newly purchased building. The building, although adequate space-wise, was severely underwhelming when it came to character and charm. The dark and unhealthy space had water damage from roof leaks, low ceilings and a maze of office partitions and outdated finishes from the 1980s. Looking past all this, we saw the building had the potential to be transformed into a modern space filled with plenty of light and views.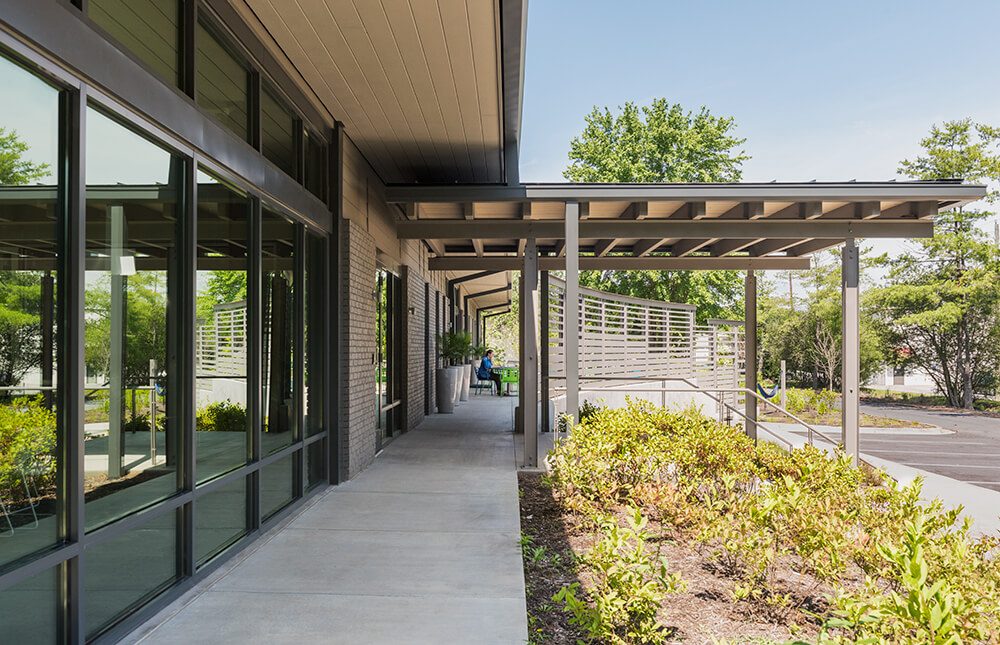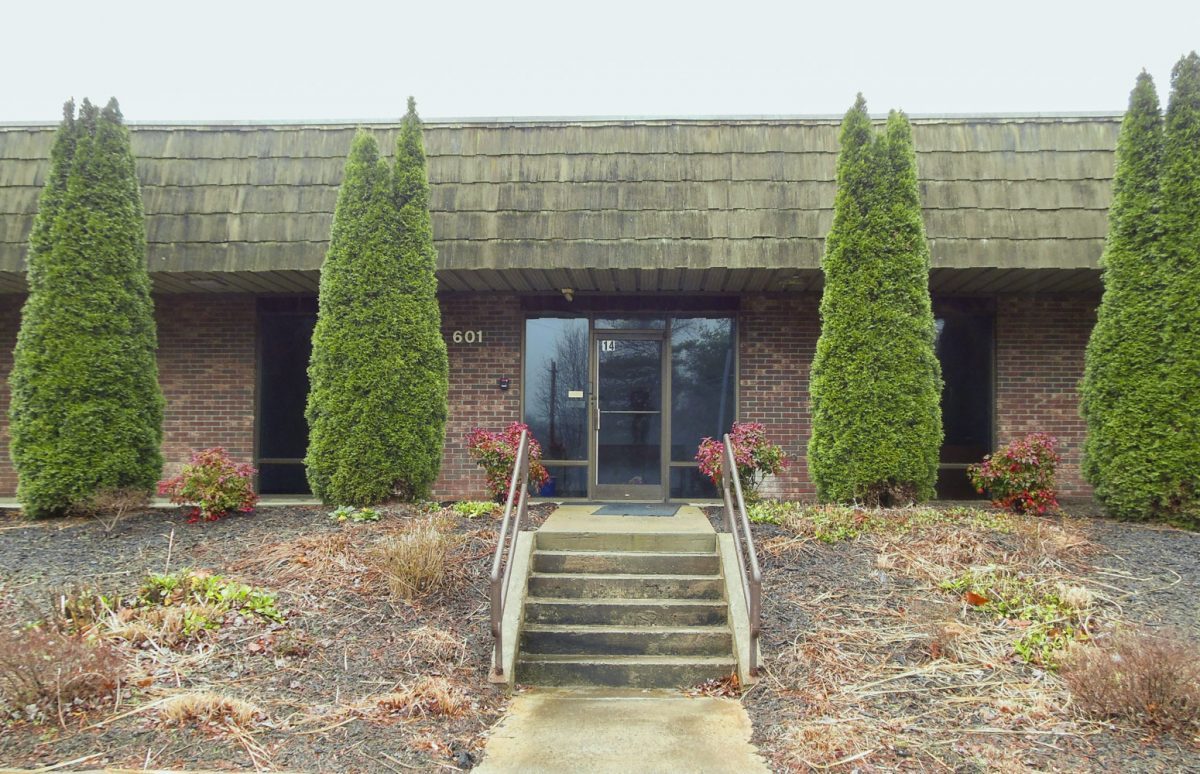 We stripped the building down to the original steel structure and exterior brick walls so we could begin with a clean slate. Our design solution focused on daylight and included subtracting several sections of wall to create large glass openings that bring light and views to the main conference room, entry and breakroom. Large skylights were added in the open office spaces to bring lots of daylight deep into the building.
ENO also wanted to incorporate natural materials into the space, while maintaining the clean lines of a modern office environment. We started with the idea of bringing the outside in, so our solution included large planters in the open offices and using accents of maple, oak and bark siding to bring warmth to the palette. The interior spaces include a mix of closed offices, open work spaces and meeting rooms for collaboration. We designed a variety of spaces that allow for concentration and focus, as well as creativity and interaction.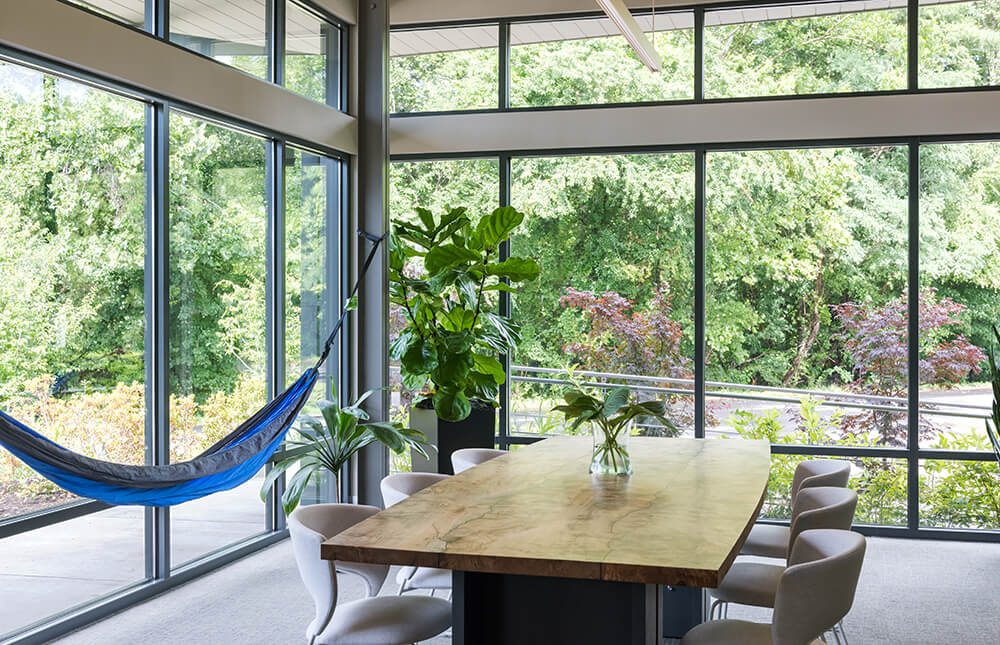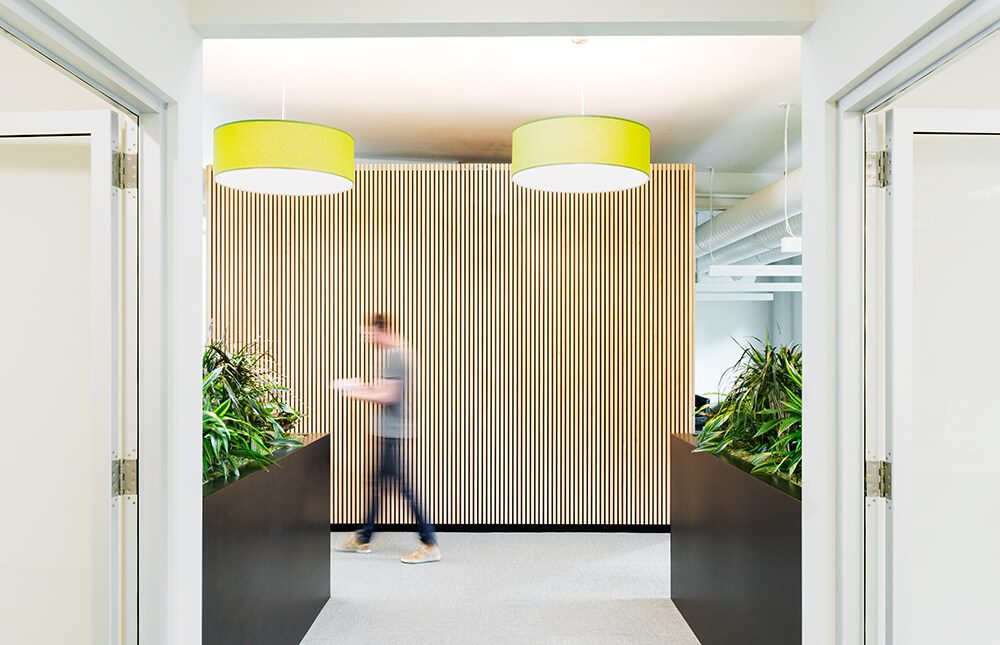 Being an outdoor gear company, ENO places a strong emphasis on engagement with the outdoors and wanted their office space to reflect these values. Given the building was located in the middle of an industrial park, we needed to reclaim some parking spaces to create our own oasis of outdoor spaces. The break room includes a large family style table and wall of glass that connects out to a "Zen Patio" for outdoor eating and socializing. The patio utilizes a slatted screen wall to create some privacy and buffer to the parking lot beyond and connects down to a densely planted garden area that was designed around a large maple, the only significant existing tree on the property.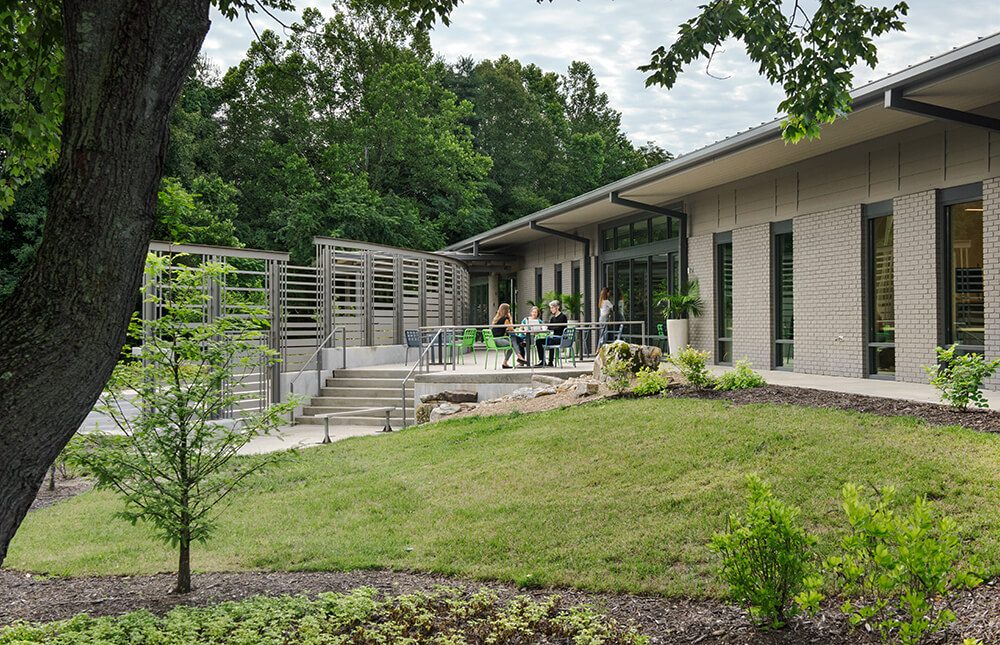 This project was a great success thanks to the whole team including, ENO, Drake Fowler, landscape architect, Tony Kinch with All Seasons Landscaping, interiors by Alchemy Design Studio, and the contractor, Casey Carmichael of Heritage Restoration.