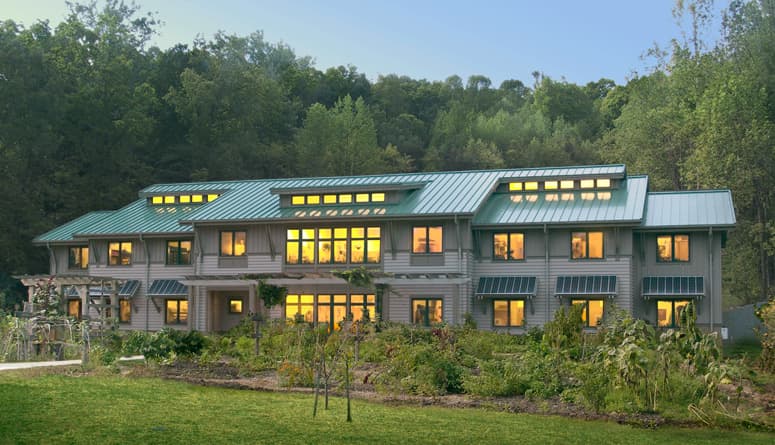 The EcoDorm achieves LEED Platinum Recertification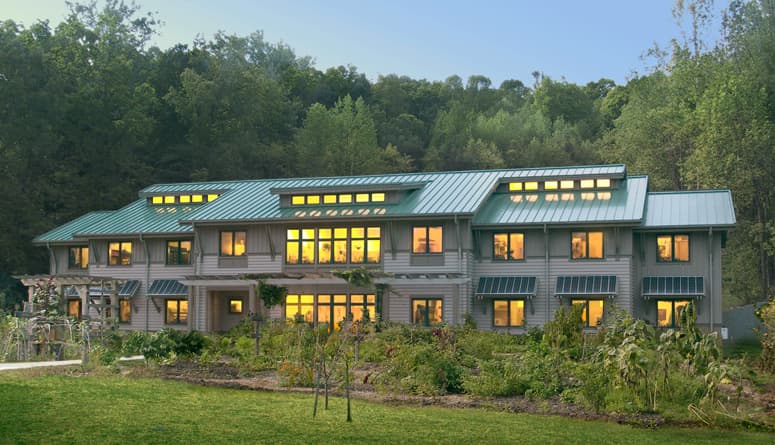 The EcoDorm at Warren Wilson College received LEED Platinum Recertification this year, the highest possible rating under the LEED system. The EcoDorm first achieved LEED Platinum in 2009 and was the first existing building on a college campus to receive this honor in the United States. Warren Wilson hired Samsel Architects to head up the administrative process for recertification which included coordinating student research on the building's actual performance, as well as broader environmental policies that will also apply to the college's overall operations.
The EcoDorm is a 38-student dormitory designed by Samsel Architects and completed in 2003. The dormitory serves as a green building demonstration facility to educate the students living there and the community at large. The dormitory employs many energy-saving technologies including photovoltaic panels, solar hot water panels, and radiant floor heating among many others. Another green building feature is a 10,000 gallon rain cistern which supplies water to flush toilets as well as providing irrigation to the permaculture gardens.

In order to receive a LEED Platinum certification, the building needs to satisfy prerequisites set by the United States Green Building Council to earn points. The prerequisites cover key aspects of green building including water efficiency, energy reduction, and sustainable materials and resources. Of the 87 credit points submitted to USGBC for the EcoDorm, 81 were awarded to Warren Wilson College. Maintaining a LEED Platinum Certification is no easy feat, but thanks to the efforts of Warren Wilson's Design and Construction staff and students, the hard work paid off.