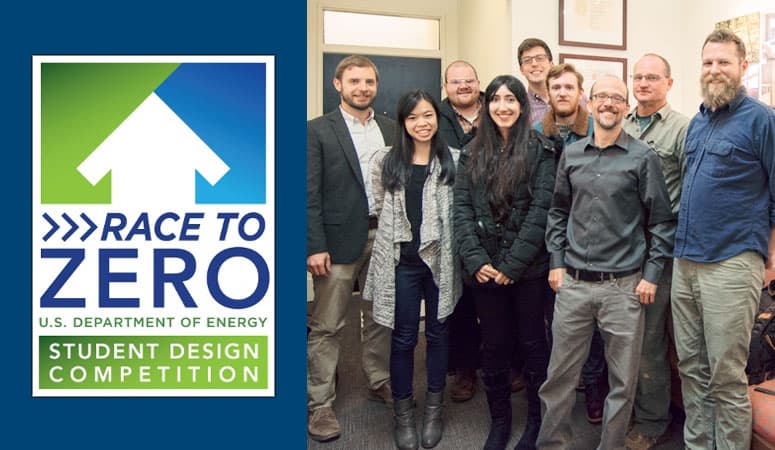 Students from Appalachian participate in Race to Zero Student Design Competition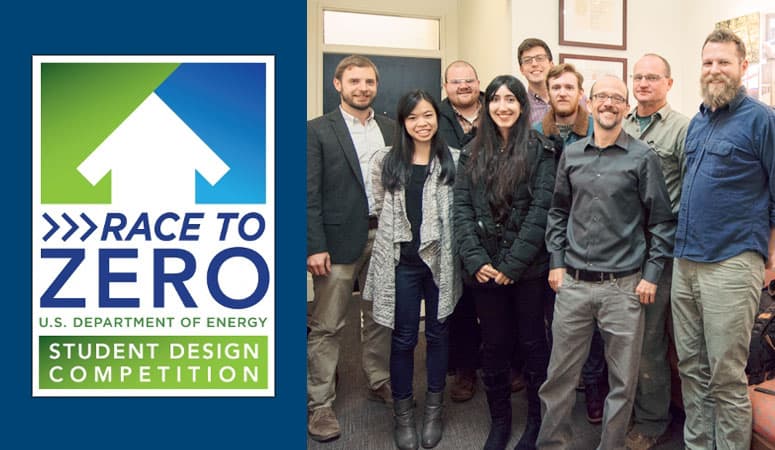 Our studio recently hosted a group of students from Appalachian State University to provide feedback on their Race to Zero entry. Race to Zero is an annual student design competition sponsored by the U.S. Department of Energy intended to inspire college students to create market-ready, creative design solutions for energy-efficient homes.
Before the students submit their final design, they will spend months brainstorming, designing and getting crucial feedback from professionals who are already achieving "green" design – which is where we come in. Andrew Windham, Assistant Professor of Building Science and the team's faculty lead, asked us to weigh in on the team's design.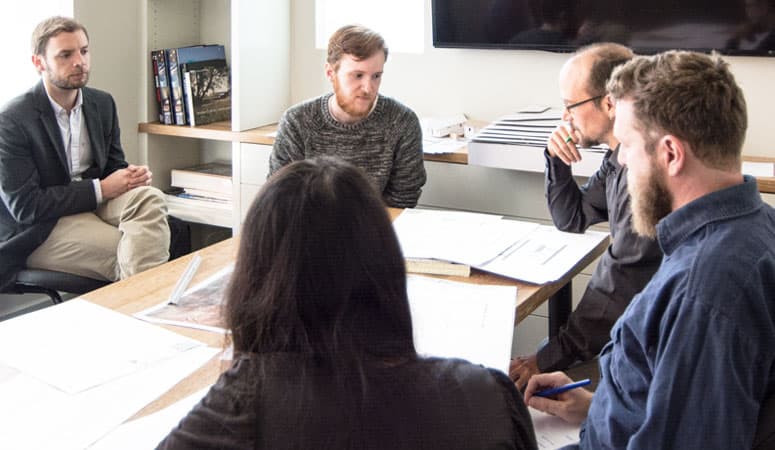 Windham and the team spent several hours with Samsel Architects' Duncan McPherson and Matt Sands discussing the details of their project. The students presented ideas, drawings and models for their concept and heard constructive feedback from our staff. "I truly appreciated how Duncan and Matt both received the students' ideas and then efficiently guided them along a path to better organizing their thoughts and priorities," Andrew commented. "The Race to Zero is a great opportunity for students and faculty alike. The competition pushes its participants to design on the forefront of highly energy efficient and healthy buildings. To do so, we must forge industry partnerships with companies like Samsel Architects. Ultimately the relationships and information sharing that develop from this work will help all of us make better buildings."
We wish the ASU Team best of luck in the competition.
The six-student team from Appalachian will represent one of 50 teams at the National Renewable Energy Lab in Golden, Colorado this April. Teams will present their designs to a panel of expert jurors, compare their efforts with other teams and learn from the industry's current thought leaders. Through this competition, the DOE hopes the next generation of building scientists will focus their careers on creating real solutions for clean energy homes.
Importance of Sustainability
"Sustainable design needs to start from the very outset of a project. The best house is a house that keeps the occupants safe, comfortable, healthy, and happy without needing to consume energy in the process."
– Andrew Windham, Assistant Professor of Building Science at Appalachian State University
According to the U.S. Department of Energy, traditional buildings consume 40% of the total fossil fuel energy in the US. At Samsel Architects we are committed to sustainable design to help change that statistic. Not only do we put sustainable design at the front of our own projects, our commitment extends to encouraging the next generation of designers and architects to do the same.
Learn more about Race to Zero on the Department of Energy's web site.