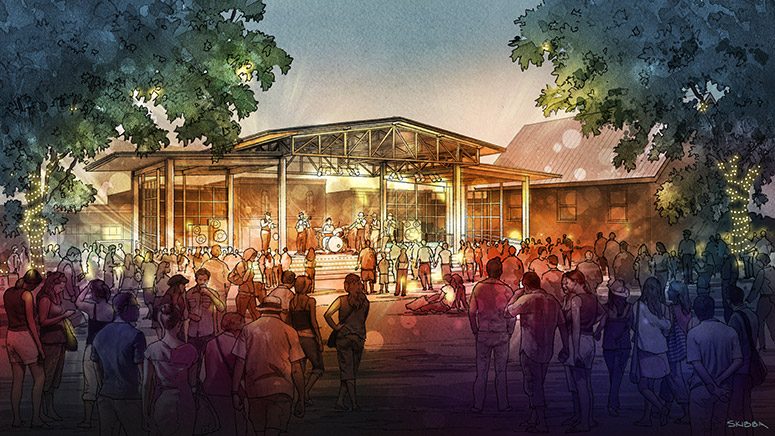 Samsel Architects Works with Wilkesboro on Downtown Rejuvenation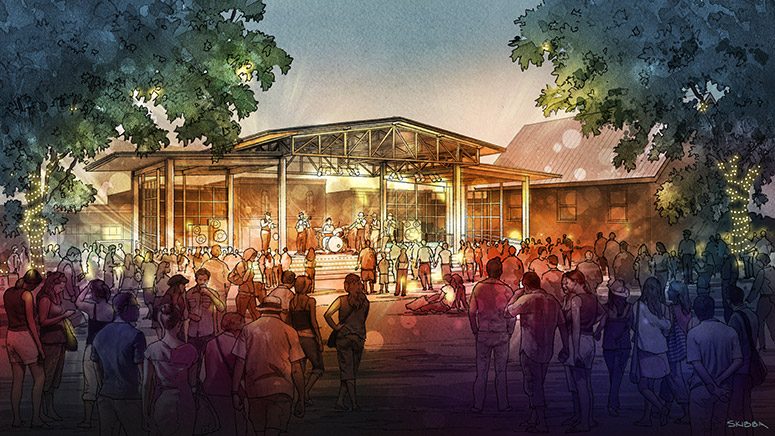 Samsel Architects has teamed up with the town of Wilkesboro to help them forge a new downtown experience. Wilkesboro is in the beginning stages of a downtown rejuvenation with the purpose of restoring vitality to their historic town. The first phase of the rejuvenation includes plans for three major components:
A revamped open air market
A versatile lawn in front of the Wilkesboro Heritage Museum
A new, permanent outdoor stage
Wilkesboro reached out to our firm to help with the design of the outdoor stage. This stage will be the biggest visual change to downtown Wilkesboro and will be located at the end of the open air market, right on Main Street. The stage will be about 20' tall and 62' wide. Taking visual cues from the manufacturing and agricultural heritage of the area, the stage will feature a metal roof with wood decking, perforated metal panels, and a steel and concrete structure.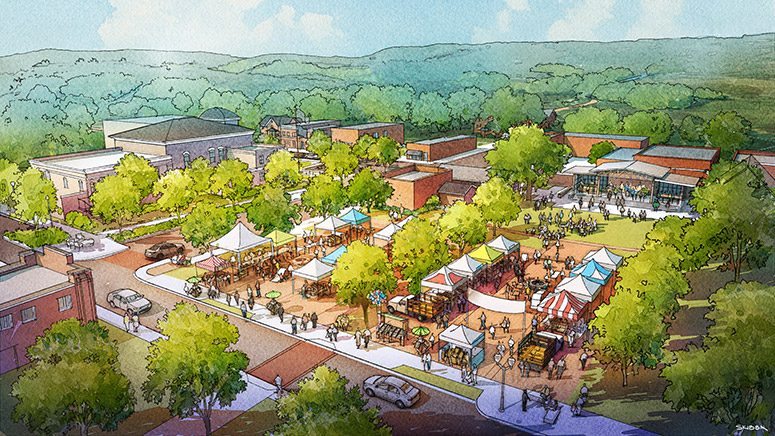 Working with illustrator, Joe Skibba, we have created renderings that show what downtown Wilkesboro will look like. The first rendering is of the outdoor stage. The stage will be located at the end of Wilkesboro's improved open air market space, which is shown in the rendering above.
Wilkesboro would like to see more life downtown. By providing this permanent structure, they will be able to use it for a variety of events. The stage can be used for public or ticketed events, like Wilkesboro's annual Carolina in the Fall Festival, or as a public gathering place. The stage has a flexible design that can either be used as one big performance area or separated into three smaller stages. Performers can face the market side or street side depending on the type of event.
Planning and Community Development Director of Wilkesboro, Andrew Carlton, named three objectives for the rejuvenation project: walkability, youth retention and promotion of healthy lifestyles. Wilkesboro already has an open air market and an event lawn in downtown, but much will be done to improve the experience. We are working with DesignWorkshop, a landscape architecture firm, to create a vibrant downtown experience for both residents and visitors alike, while also boosting economic development.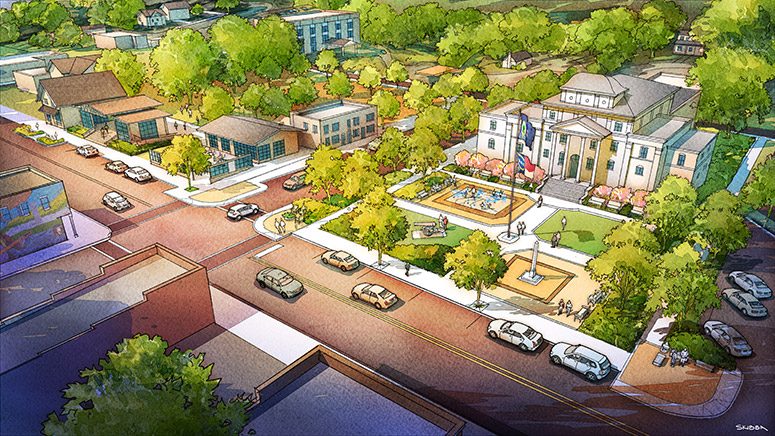 This rendering, by Joe Skibba, shows the plans for the lawn in front of the Wilkes Heritage Museum, which includes a "splash pad" play area.
We are delighted to help Wilkesboro with their downtown rejuvenation and look forward to its growing vitality.