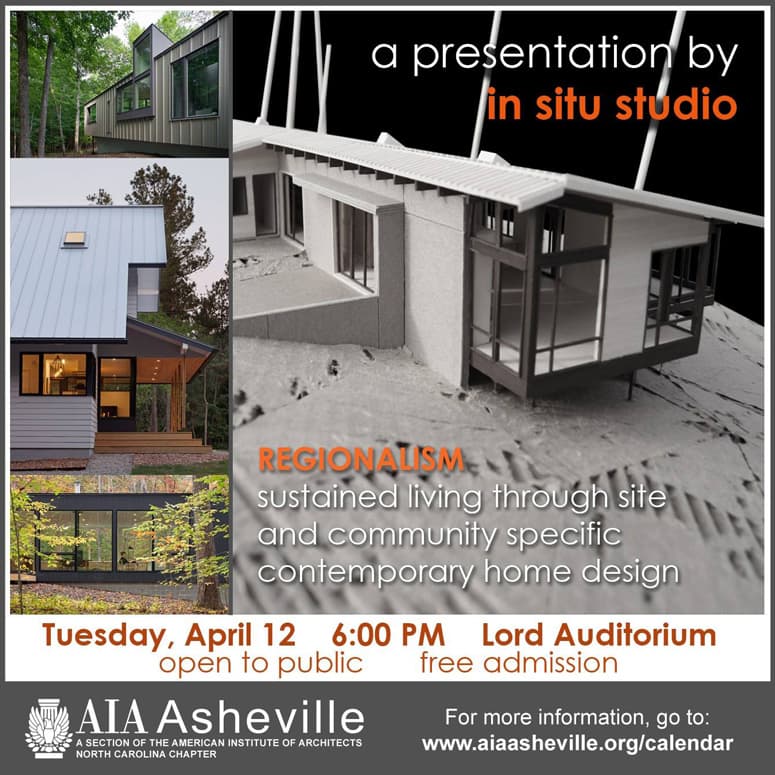 Join us for National Architecture Week
It is the beginning of National Architecture Week, a time to recognize the positive roles and contributions architects play in the community. In honor of Architecture Week, AIA Asheville, along with sponsors Modern Asheville, is presenting two exciting events that are open to the public.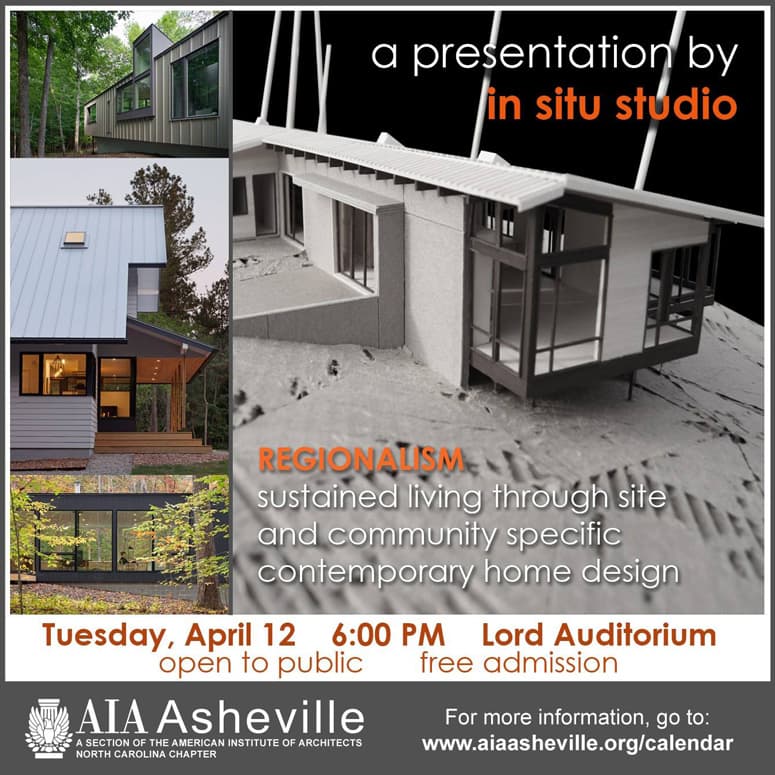 REGIONALISM: Sustained living through site and community specific contemporary home design
When: Tuesday, April 12, 2016, 6:00pm – 7:00pm
Where: Pack Memorial Library | Lord Auditorium (67 Haywood St, Asheville, NC 28801)
Activate Asheville is excited to bring you IN SITU STUDIO, a Raleigh based design firm, to share their philosophy on contemporary home design in North Carolina. Join us Tuesday night at 6pm in the Lord Auditorium and welcome principals Erin Lewis and Matt Griffith as they articulate details of their mindful design practice as it pertains to home design inspired by many things including regionalism, context and culture.
"Every building is situated in a unique context formed of specific physical and cultural characteristics. At in situ studio, we work with our client to uncover design solutions that are unique to clients' needs, appropriate to the places in which we are building, and innovative in the ways they solve problems through common sense. Our work is contemporary and sustainable. We prioritize stewardship of water, light, and energy. We are not prone to imitating any particular style. Rather, we seek an authentic logic for every project that transcends style."
This event is FREE. Please come an enjoy!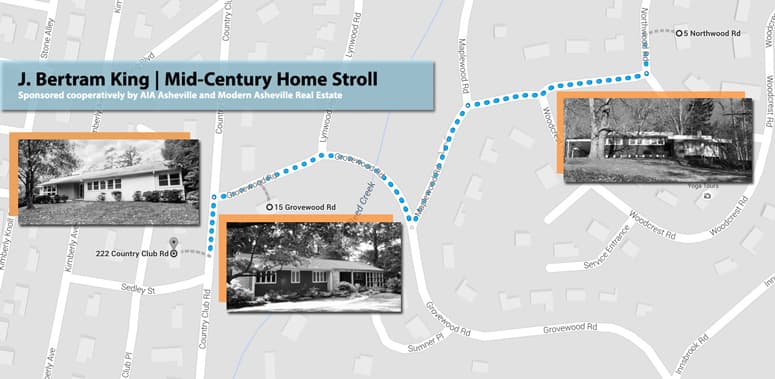 Mid-Century Home Stroll
When: Thursday, April 14, 2016, 6:00pm – 7:00pm
Where: 222 Country Club Road | 15 Grovewood Road | 5 Northwood Road
AIA Asheville and Modern Asheville Real Estate are co-sponsoring our next Modern Mixer. The Bert King Designed Home Stroll will take place on April 14th from 5 to 7pm. Three 1950's era homes designed by Asheville's notable, mid-century architect will be open for viewing including Bert King's former private residence. The tour is in honor of AIA's National Architect's Week honoring talented architects who've made positive contributions to our communities. Stop by and say hello to the hip and happy homeowners, participate in some architectural banter and taste light refreshments.
This event is FREE. Join us for an evening stroll!