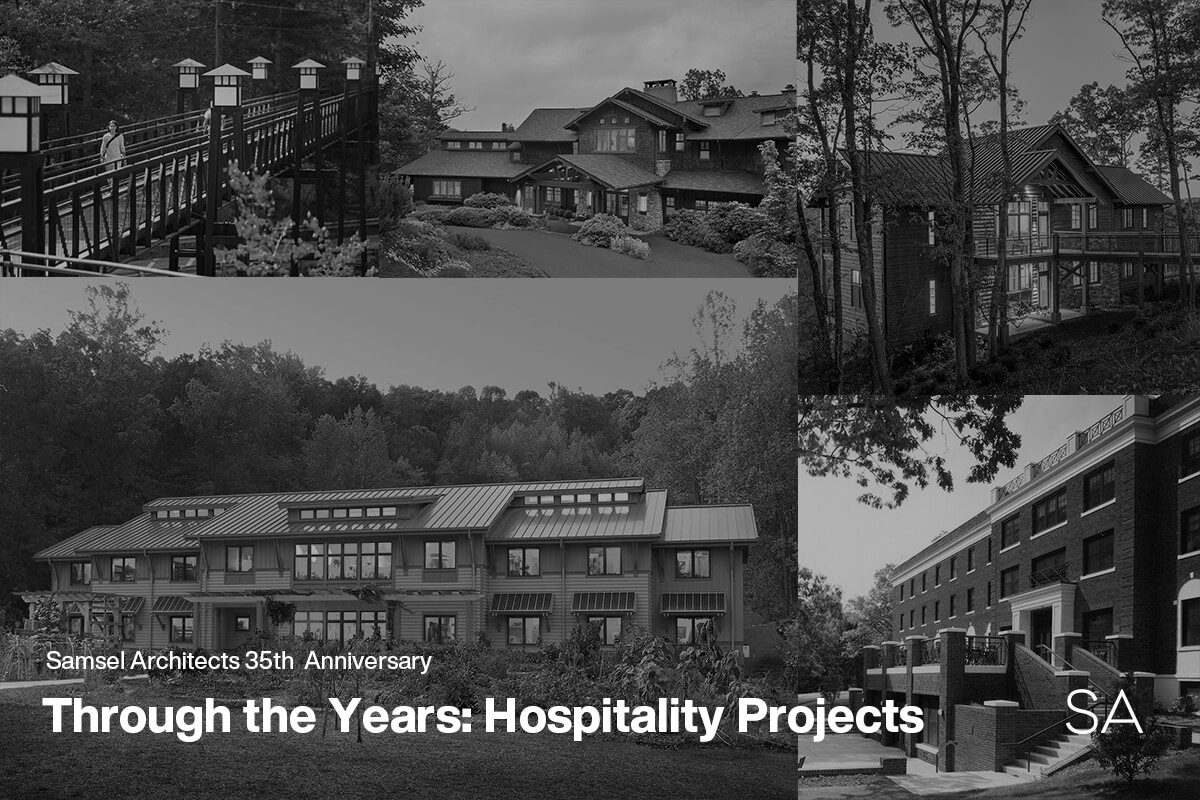 35th Anniversary: Hospitality Projects Through the Years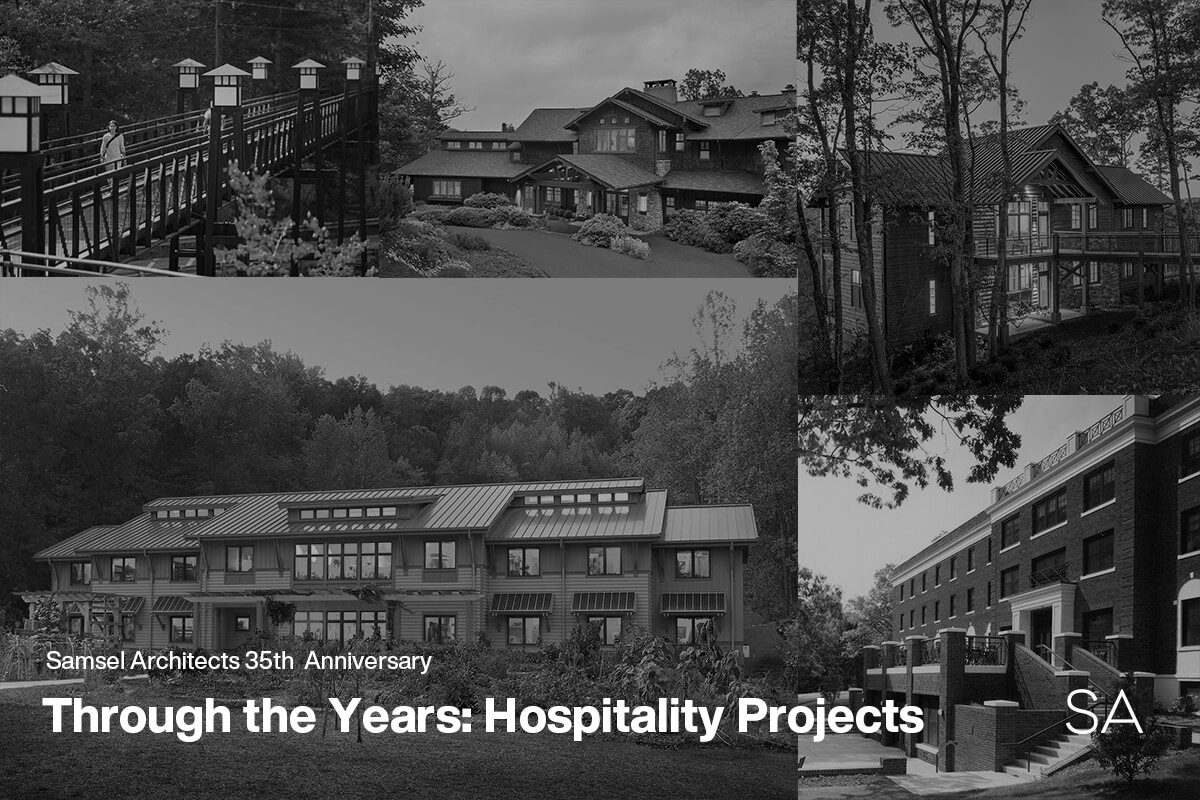 2020 marks thirty-five years for our firm. Since our founding, we have worked on hundreds of projects of many types throughout the Southern Appalachian region. This summer, we are reviewing the evolution of our projects since opening our doors in 1985. Today we take a glimpse at a handful of our hospitality and educational projects, from the EcoDorm – the US's first LEED Platinum certified dormitory building, to a luxe resort in Virginia's Blue Ridge Mountains.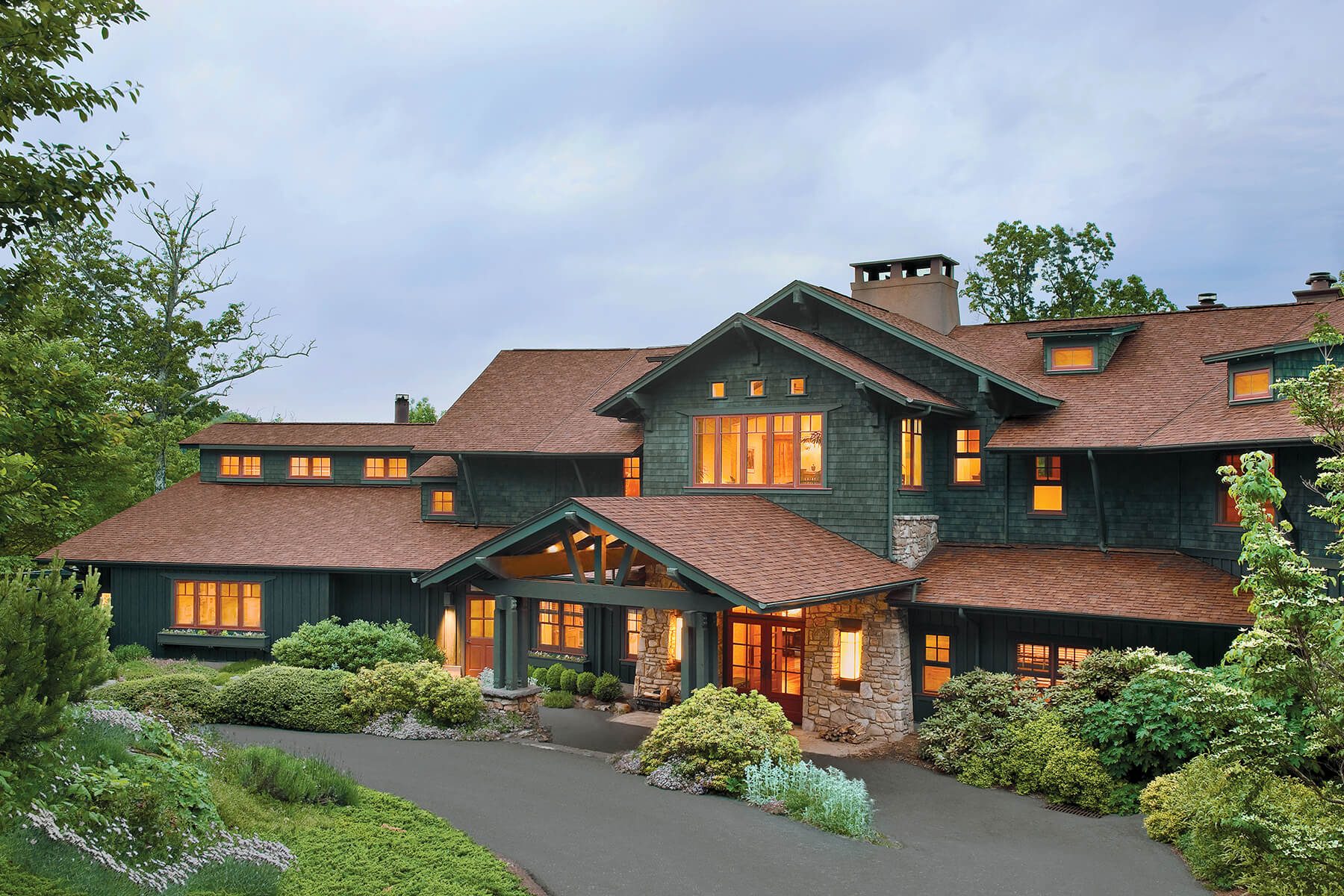 Just twenty minutes from downtown Asheville, the Sourwood Inn feels secluded in the Blue Ridge Mountains. The Craftsman style inn uses natural stone, cedar siding and ample windows. The property has a 40-seat dining room, an outdoor dining terrace as well as twelve private rooms and a cabin, each with their own balcony to enjoy views of the Reems Creek Valley below. You can see more images of this project here.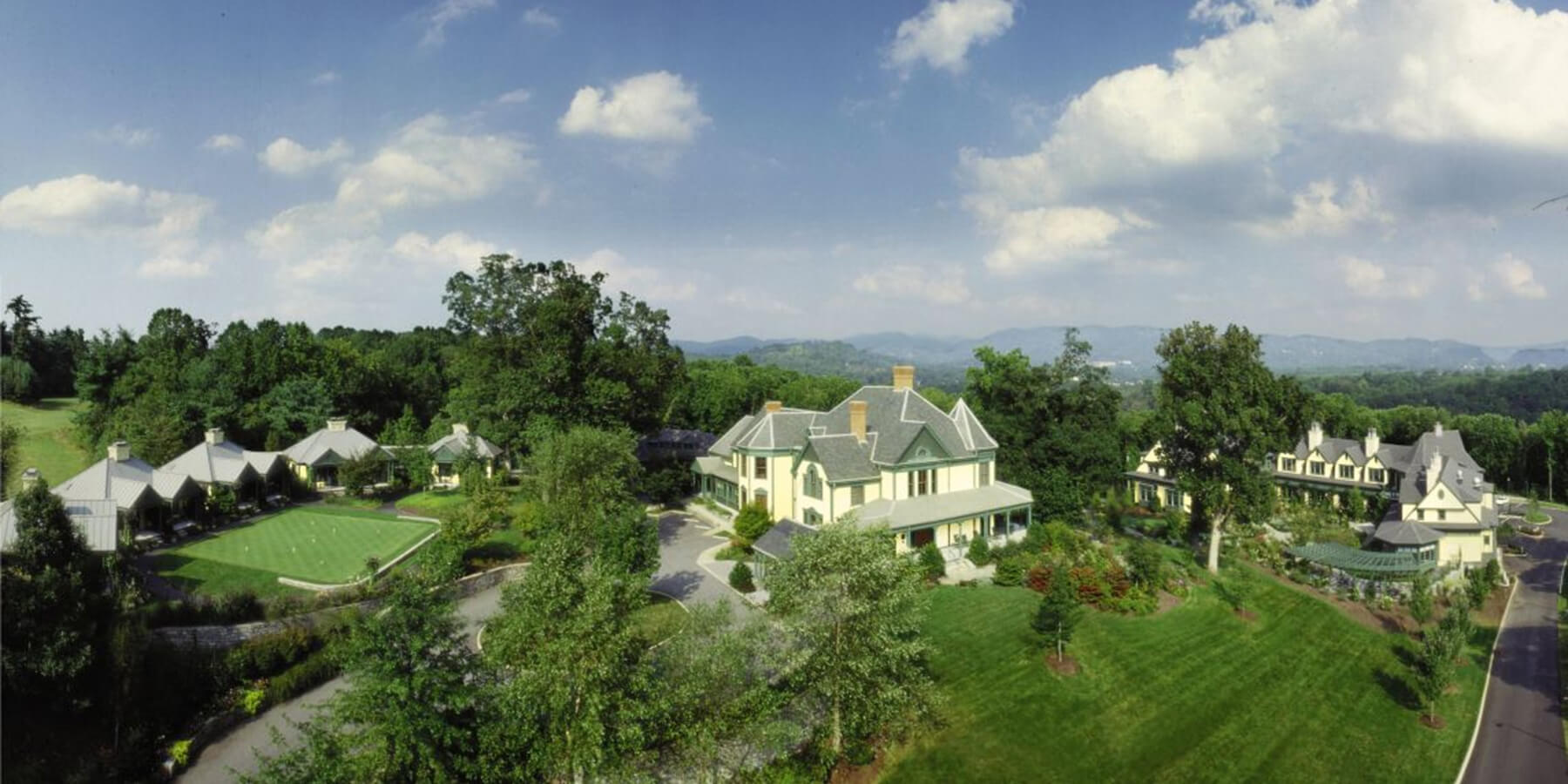 Originally built in 1889, this Queen Anne style mansion was the private residence of US congressman and ambassador, Richmond Pearson. The home, abandoned and dilapidated, was set to be demolished in the early 1980s until The Preservation Society of Asheville & Buncombe County (PSABC) spearheaded an effort to move and save the home. We rehabilitated the mansion into an inn and conference facility, as well as designed two new cottage clusters in design harmony with the style of the original home. The total facility included 37 guest rooms and two 90-seat restaurants. This project won a Griffin Award from the PSABC in 1990 as well as a Tower Award from the AIA North Carolina. Unfortunately, the mansion has since burned down due to arson, but you can still visit the property, now known as OM Sanctuary. See more photos of this project here.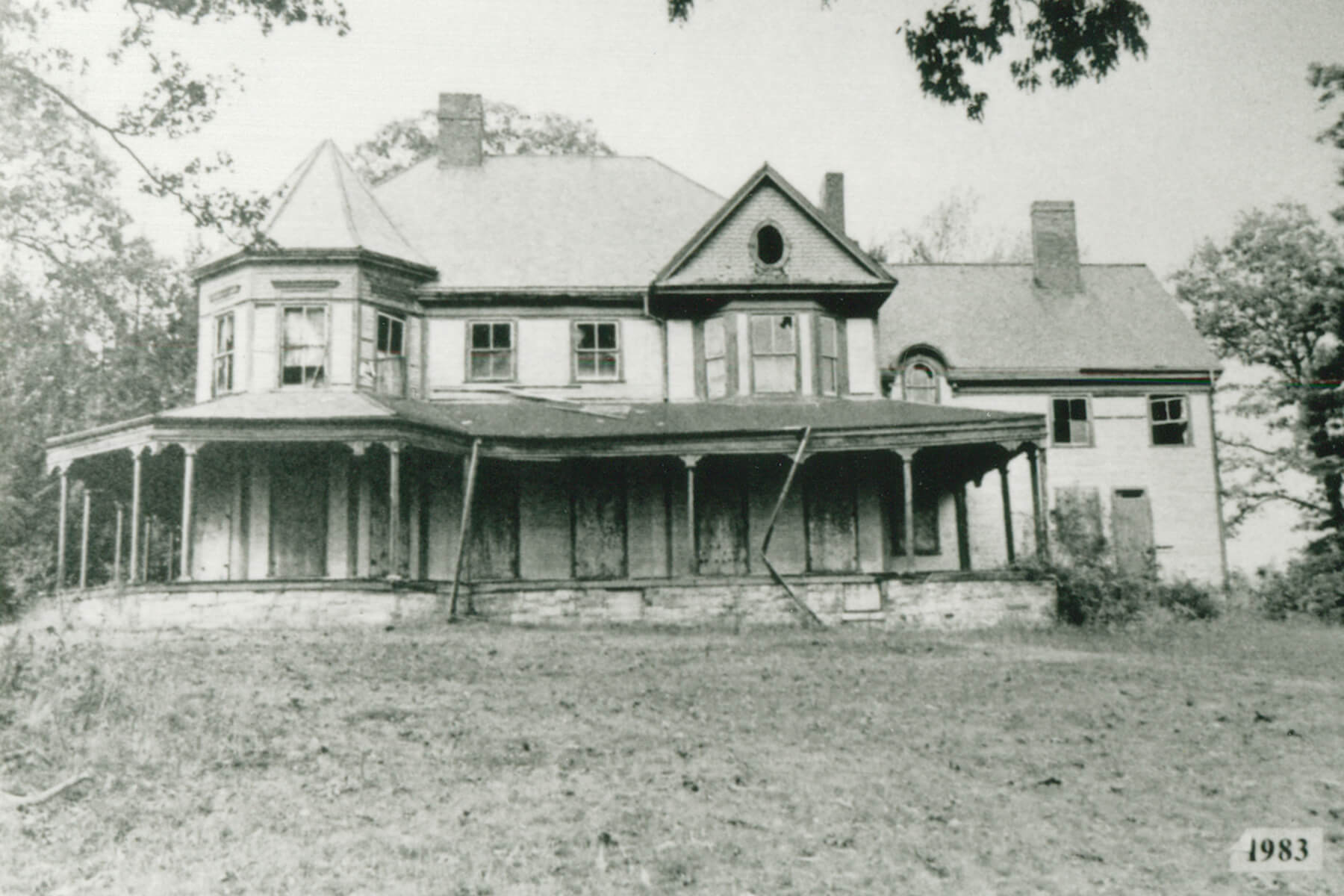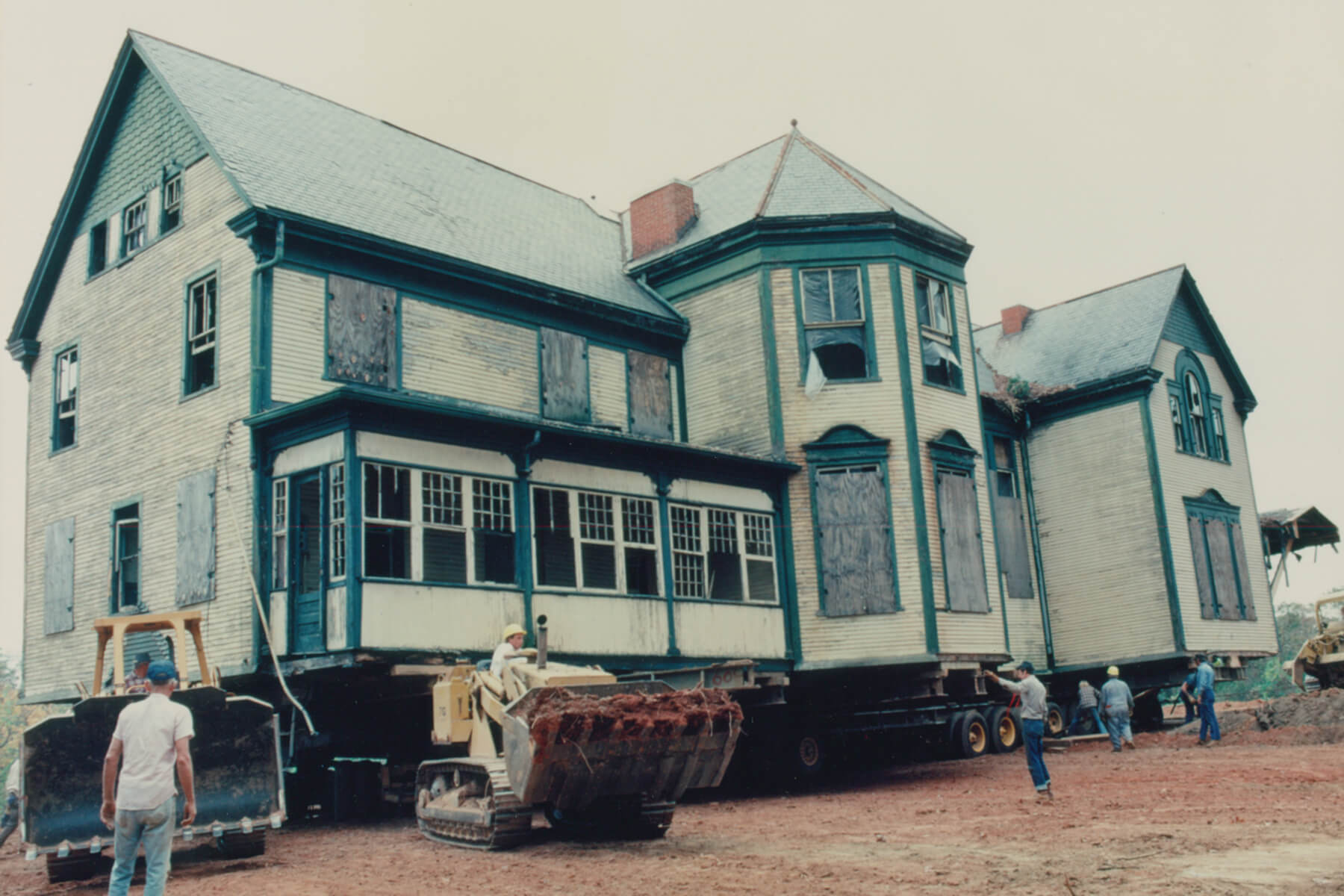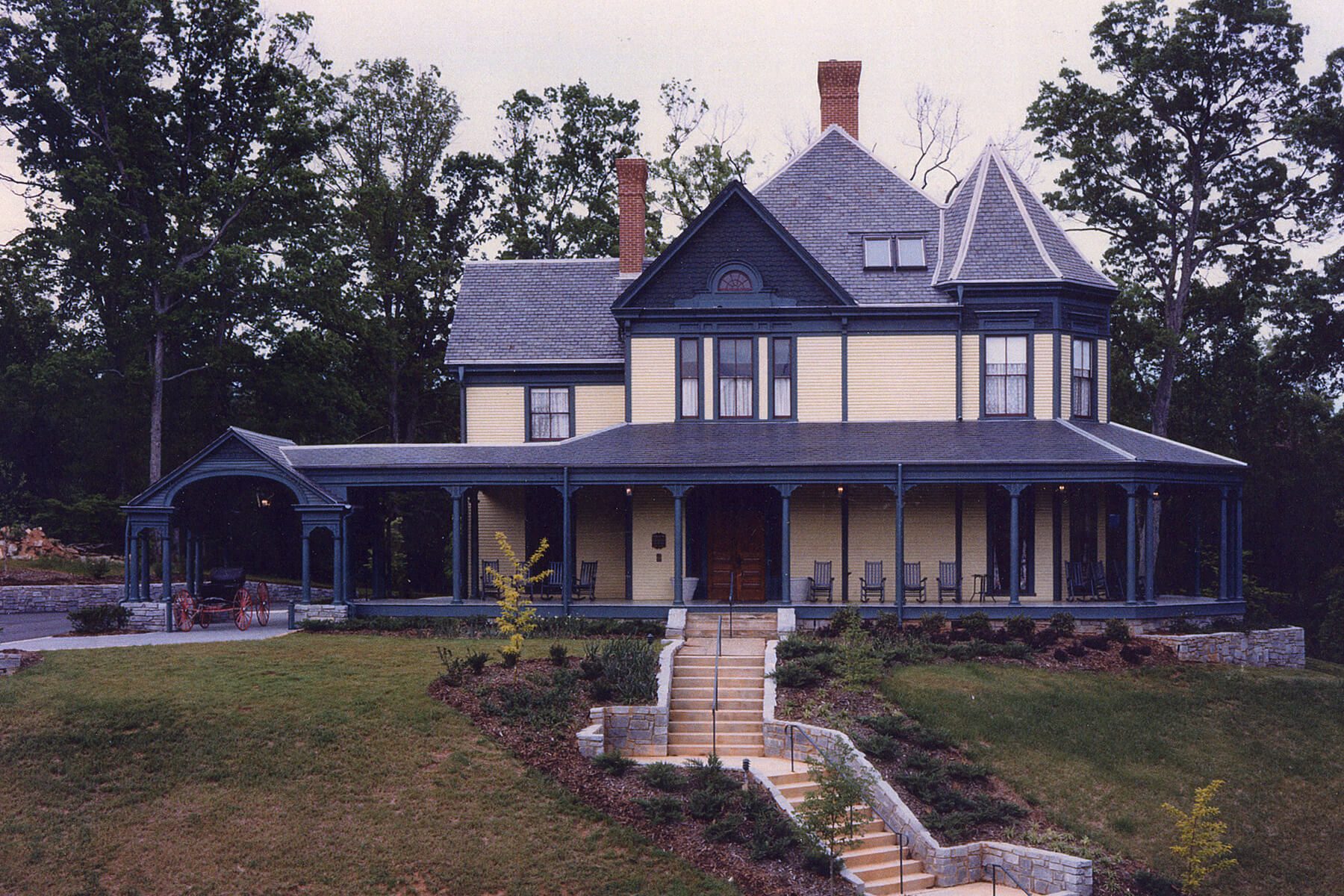 Images of the relocation and rehabilitation of the original structure.
Warren Wilson College
EcoDorm, 2001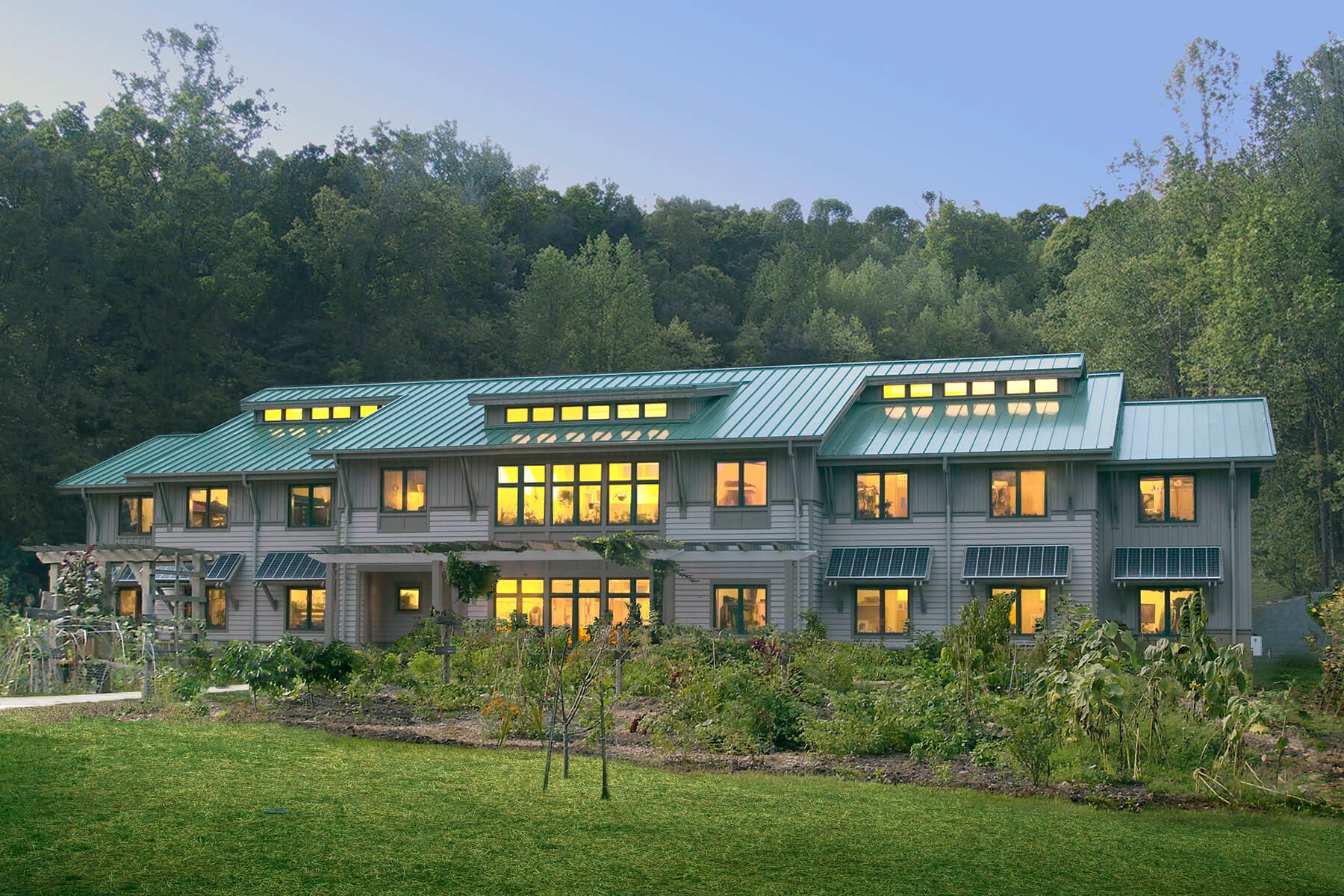 Completed in 2003, the EcoDorm at Warren Wilson College is the first LEED Platinum Existing Building on a college campus. LEED is a rating system of the US Green Building Council that recognizes highly efficient green buildings. This two-story dormitory houses 36 students during the semester. Efficient space planning was used to minimize square footage and cost of the project, as well as reducing the amount of resources needed to construct, operate, and maintain it. The EcoDorm uses a 10,000 gallon salvaged milk tanker to hold rainwater that is used to flush toilets and water the surrounding landscape. Other energy saving features include solar hot water, solar panels and radiant floor heating. You can find out more about this project here.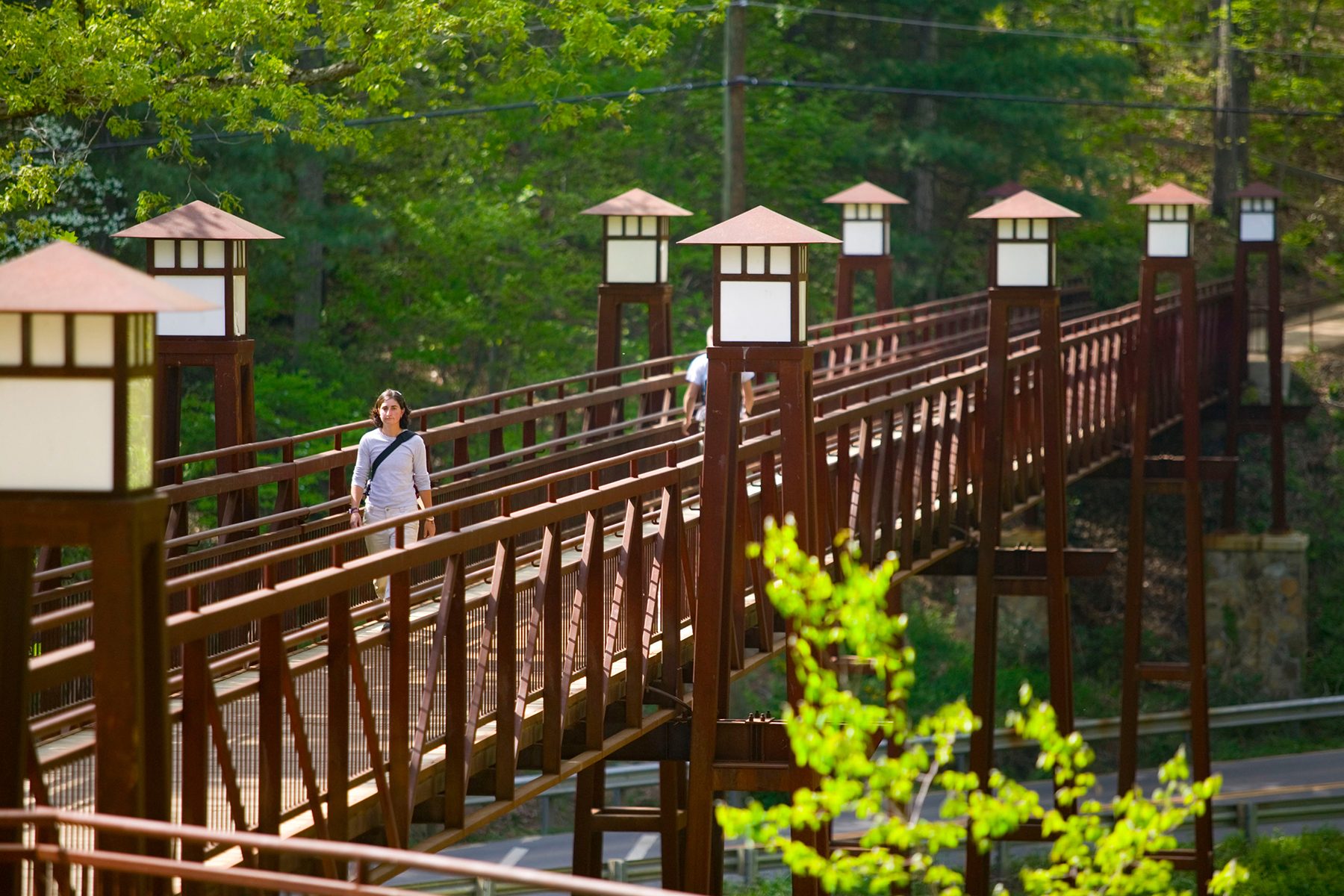 Warren Wilson's campus is bisected by a busy, winding state highway and this bridge provides pedestrians and bicyclists a safe way to cross. The oxidized steel structure, stone foundations, and mission style lanterns blend with the rustic surroundings of the campus and give the bridge a sense of permanence and history. This was a joint project with Warren Wilson College and the North Carolina Department of Transportation.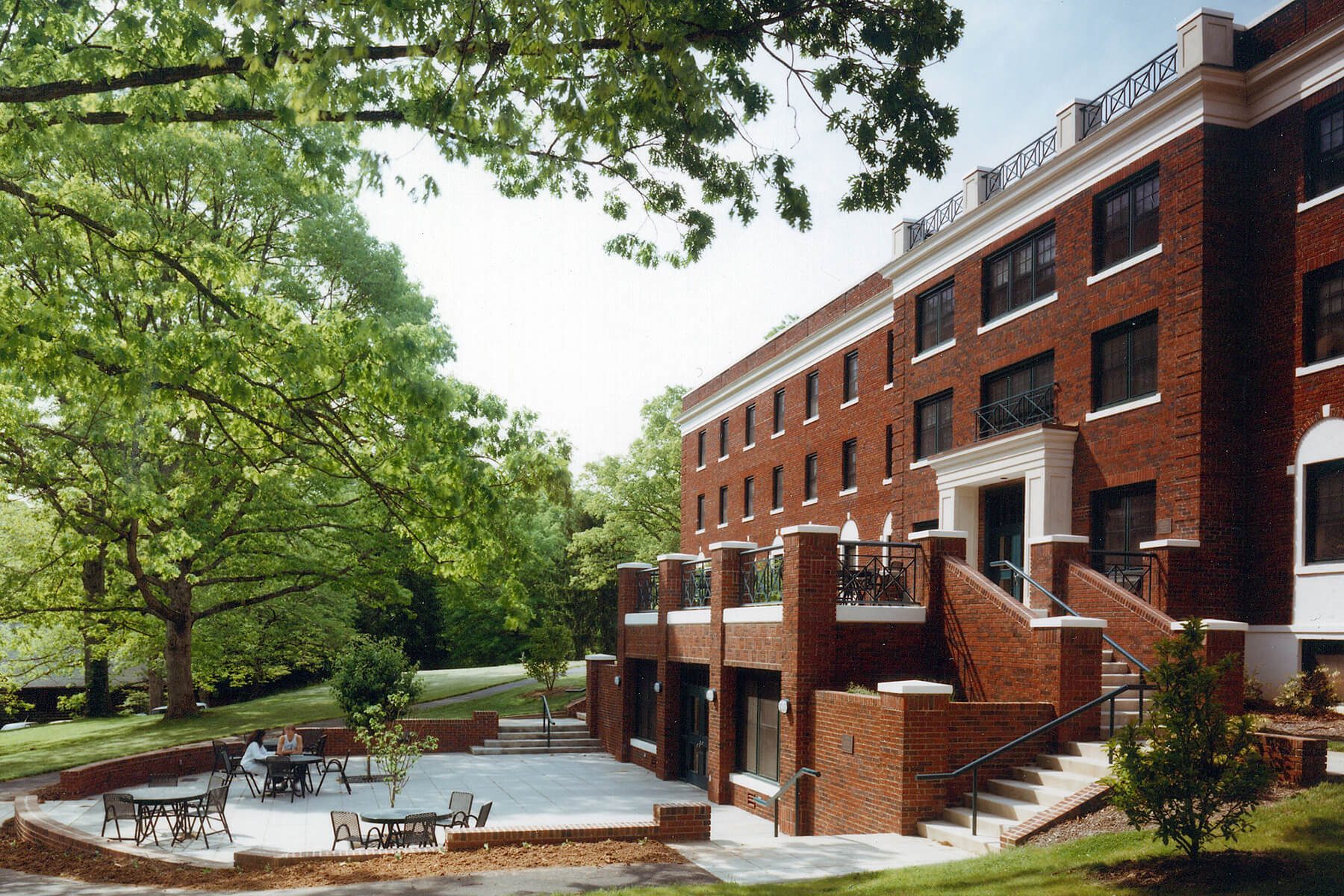 The Sunderland Hall renovation breathed new life into an aging campus building. Improved space planning and integration of modern equipment were key goals of the project. A new entrance facade was created to both improve functional use, as well as create a sense of place and identity. A large terrace was added at the building's improved entrance, providing a multi-functional outdoor gathering space.
The Pinnacle Cottages at Primland Resort: 2012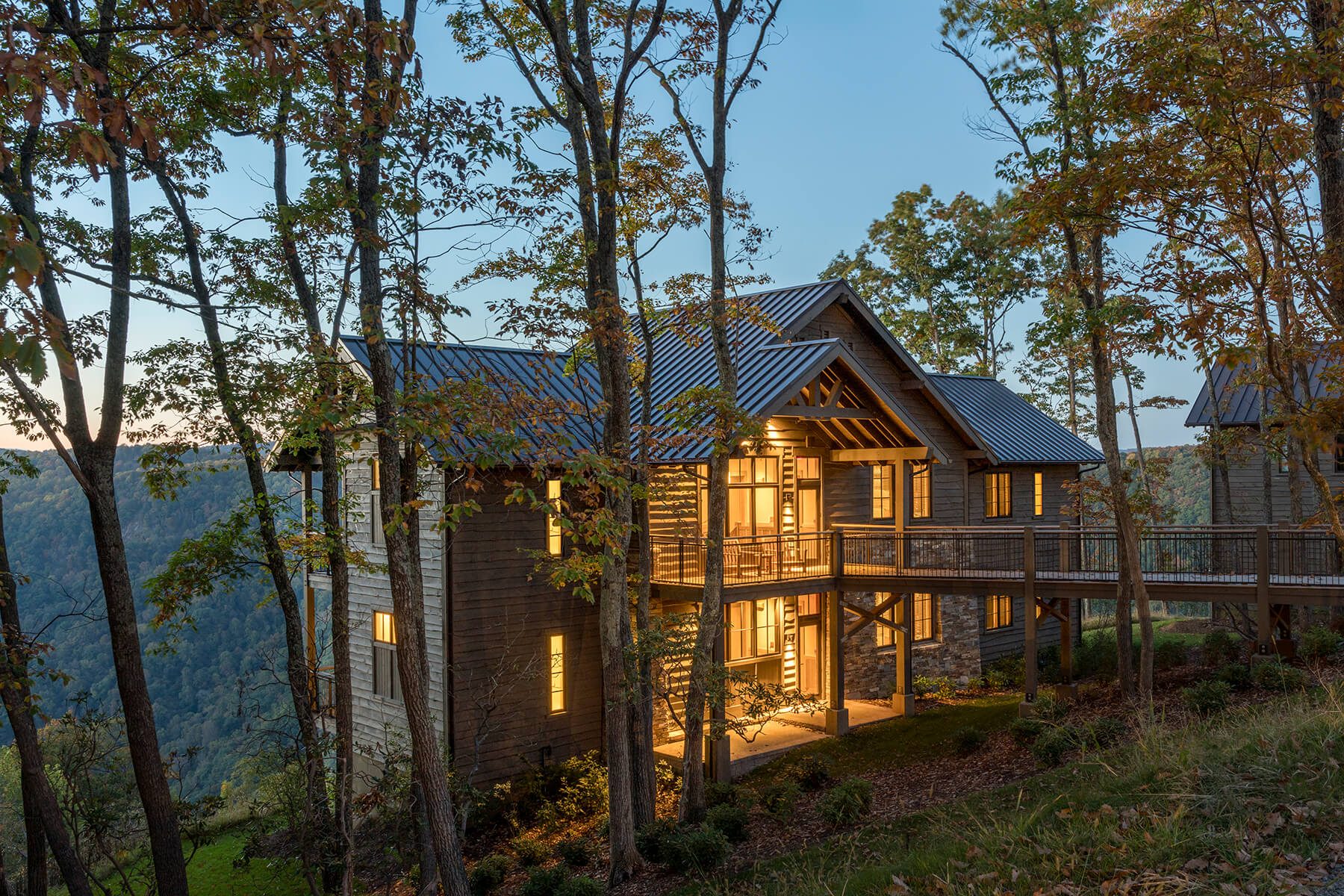 The Pinnacle Cottages at Primland Resort are four separate structures perched on the edge of the Dan River Gorge in the Blue Ridge Mountains in Virginia. The Cottages have a woodsy palette that compliments the natural setting of this 12,000 acre resort. Each cottage holds four guest suites and each room has an amazing view of the gorge below. The interiors use natural materials, like stone and white oak, with clean lines and simple forms to provide a relaxing backdrop for a retreat. You can see more images of this project here.