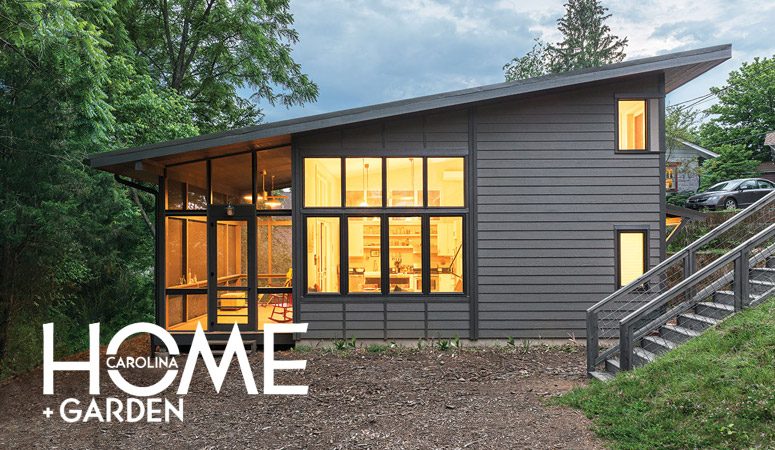 West Asheville Small House in Carolina Home + Garden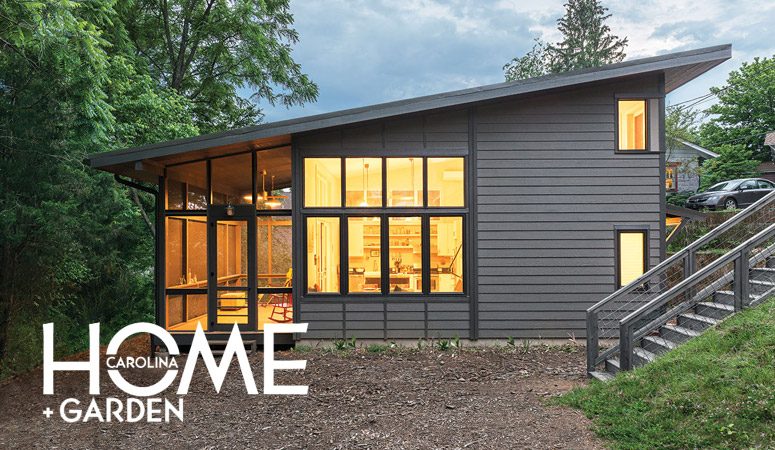 We are excited to see our West Asheville small house featured in the spring edition of Carolina Home + Garden Magazine. This home is on a ⅛ acre infill lot in the high-demand West Asheville area. Our clients, a young couple, wanted a small, minimalist home that would allow them to live simply. We were tasked with creating a design that worked on a challenging site and on a tight budget.
With a small footprint, space optimization is key. Each room houses multiple functions, and storage space is integrated into every possible location. In the kitchen simple, white cabinets completely line the kitchen/living area wall. The upstairs loft, accessed by a ladder, serves as a guest room, home office, and extra storage space. The bathroom houses a stacked washer and dryer, and an exterior door allows it to function as a mudroom.
The owners strongly emphasized using available outdoor space to its fullest. A large screened porch takes advantage of the temperate climate, and is an adjunct dining room and living space for three seasons of the year. The screened porch backs up to a dense stand of trees, giving privacy to the large sliding glass doors leading from the living area. A ¾ height east-facing wall of operable windows frames a view of the vegetable garden.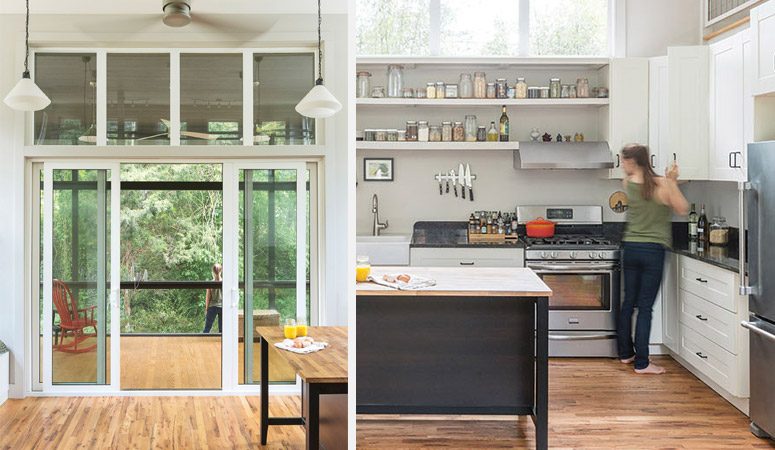 The lot consisted of a 12' drop-off from street level, which has significant pedestrian and automotive traffic. Presenting an appealing facade on a high-visibility street while maintaining a reasonable degree of privacy presented a design challenge that is unique to infill development. A shed roof with a loft space overlooking the street places occupants at eye level with pedestrian traffic. This street connectivity in a second-floor space provides privacy for the main floor and gives the homeowners the opportunity to experience the bustling street when they choose to.
A simple form and tonal grey palette unify and lend a modern aesthetic to the exterior of the small house, while light colors and high ceilings give the interior an airy feel. Nestled among large, developer-designed spec houses and early 20th century cottages, this charming modern infill home is a point of architectural interest.
You can see more photos from this project here on our site and you can read the Carolina Home & Garden article here.