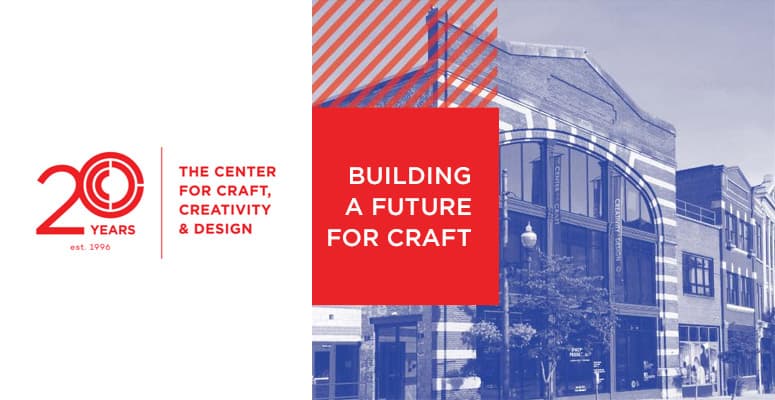 CCCD Celebrates 20th Anniversary on August 11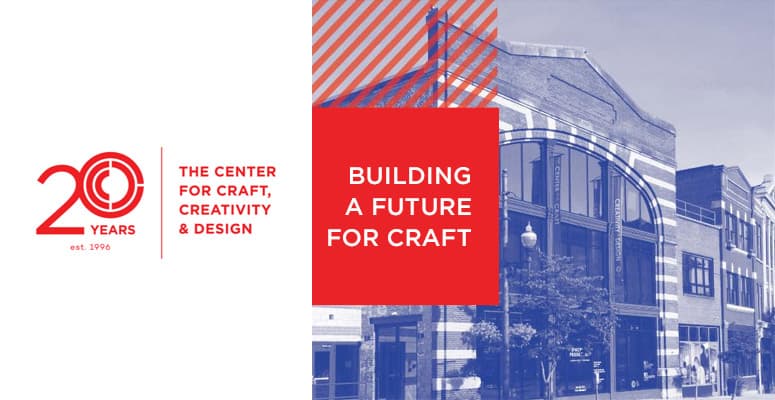 On August 11, from 7-10 pm, The Center for Craft, Creativity & Design (CCCD) celebrates 20 years of service to emerging artists, researchers, scholars, and the public with its 20th Anniversary Celebration & Benefit. The event will spotlight interactive art installations, local cuisine and entertainment.
Guests will convene at CCCD's historic 67 Broadway Street building in downtown Asheville, to explore four uniquely themed floors filled with art installations, live music, craft food, and specialty beverages. The event features local cuisine provided by Posana, Gan Shan Station, and Foothills Local Meats. Mayor Esther Manheimer will welcome guests and the 55-member host committee, led by Robyn Horn of the Windgate Charitable Foundation and Libba Evans who is the former Secretary of the N.C. Department of Cultural Resources. Benefit tickets begin at $50 for young adults (under 35) and $100 for the general public.
Three distinct Back to the Drawing Board installations by artists Jay Fox and Ellie Richards (Penland, NC), Brice Garrett (Brooklyn, NY), and Chris Watts (High Point, NC) allow guests a one-of-a kind experience working with the artists on hands-on projects or experiencing a site-specific immersive installation. Two of the three projects will continue on Friday and Saturday August 12 – 13, free and open to the public from 12 – 6 pm.
"We are planning a one-of-a-kind event in celebration of the history of CCCD while embracing the cultural community and artists who make Asheville and Western North Carolina the location that it is known for today," says Stephanie Moore, Executive Director.
Throughout the building, guests will preview a future Makerspace with live music by the Reggie Sullivan Band, experience the exhibition Warped featuring textiles inspired by sound, and enjoy a contemporary lounge created by Mobilia and Four Corners Home. Ticketed guests will also receive a commemorative vessel created by East Fork Pottery.
Congratulations to CCCD on their 20th Anniversary, and we wish you many more years of success!
EVENT DETAILS
Date and Time: Thursday, August 11, 2016, 7 – 10 pm
Location: The Center for Craft, Creativity & Design, 67 Broadway Street, Asheville, NC 28801
Ages: 21+
To learn more and purchase tickets, visit: cccdnow.org/20years.
About the Center for Craft, Creativity & Design
Founded in 1996, The Center for Craft, Creativity & Design (CCCD) is a national 501c3 nonprofit organization dedicated to advancing the field of craft through fostering new ideas, funding craft scholarship, and backing the next generation of makers, curators and critics. CCCD has developed a strong national reputation as a significant resource for artists, museums, academic researchers, university students and arts organizations. Each year, CCCD administers over a quarter million dollars in grants to those working in the craft field.