Craven Gap earns NC first Living Building Net-Zero Certification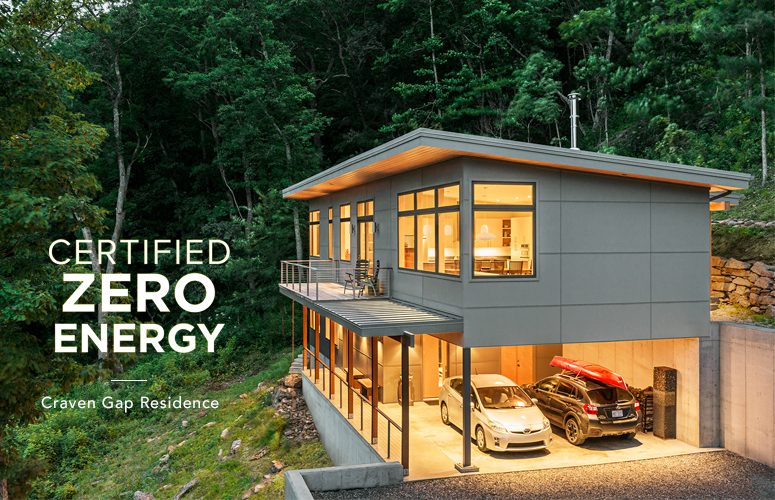 Our Craven Gap Residence has become the first home in North Carolina to earn Zero Energy certification from the International Living Future Institute. Part of the Living Building Challenge, Zero Energy Certification is the most ambitious of all energy certifications, requiring actual, rather than modeled, performance. This means to receive certification, the Craven Gap residence had to be operational for at least twelve consecutive months prior to evaluation.
"Energy efficiency has come a long way the past 20 years, and zero energy buildings are the new goal," said Duncan McPherson, Principal of Samsel Architects and lead architect on the project. "The Living Building Challenge and other groups continue to raise the bar and push the design and construction industry to do their part in addressing climate change crisis."
The Craven Gap Residence is not only the first Zero Energy Certified Project in North Carolina, it is the first project in North Carolina to achieve any level of certification through ILFI. The home also currently has the smallest photovoltaic array of any Zero Energy Certified project, showing that large arrays aren't necessary to achieve Zero Energy.
Energy efficiency was a major design priority for the home owners. Their goal from the start was to minimize energy use as much as possible while also using cost effective and conventional building techniques.
Our solution was to design a passive solar home that was pre-wired for future solar panel installation. Elements of the design that contribute to the Zero Energy certification include:
Polished concrete slabs provide the proper thermal mass for passive solar energy, and roof overhangs were calculated for the correct year-round sun exposure.
An efficient thermal envelope, ERV, and mechanical system minimize energy use and allowed the house to achieve a HERS rating of 50 (50% more efficient than a standard new home) when the home was completed.
A 5kW PV array was added by owners a year after construction was completed, and once a year's worth of energy bills were collected, data indicated that the home produced more electricity than it consumed during the year.
See the case study of this project at Living Future's site here.
About the International Living Future Institute
The International Living Future Institute is a hub for visionary programs. The Institute offers global strategies for lasting sustainability, partnering with local communities to create grounded and relevant solutions, including green building and infrastructure solutions on scales ranging from single room renovations to neighborhoods or whole cities. The Institute administers the Living Building Challenge, the most rigorous and ambitious building performance standard. It is home to Ecotone Publishing, a unique publishing house dedicated to telling the story of the green building movement's pioneering thinkers and practitioners.