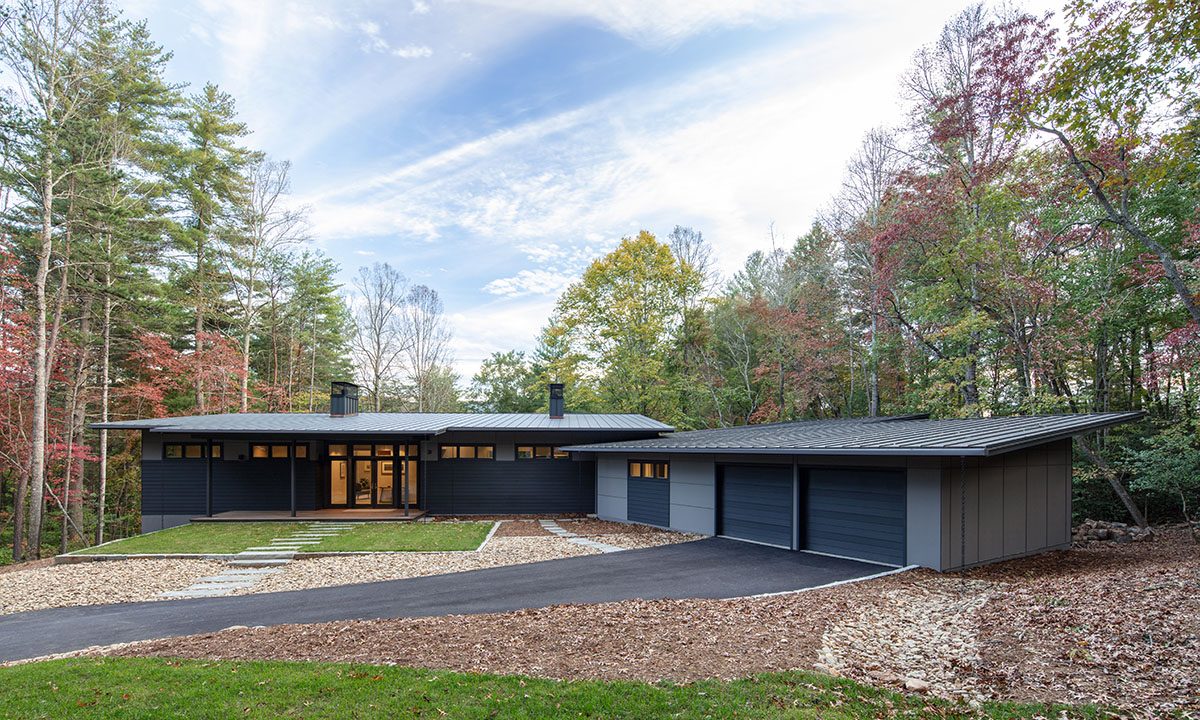 Swannanoa minimalist home connects with nature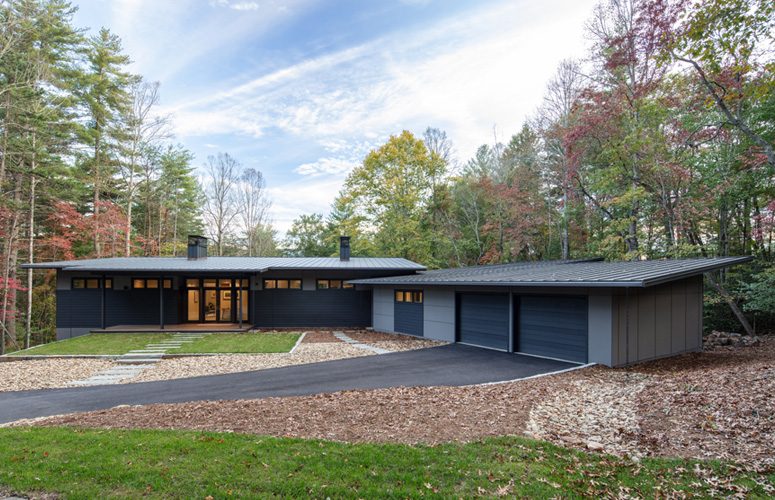 Located in Swannanoa, N.C. on a wooded lot with views to Craggy Mountain, this two-story modern mountain home serves as a comfortable and practical retreat for its residents. The owners came to our firm to help them create a quiet home where they could feel connected to nature. The main level is a bright and airy space that uses a minimal palette and generous windows. The lower level is a utilitarian space that serves as a screen-printing and woodworking studio.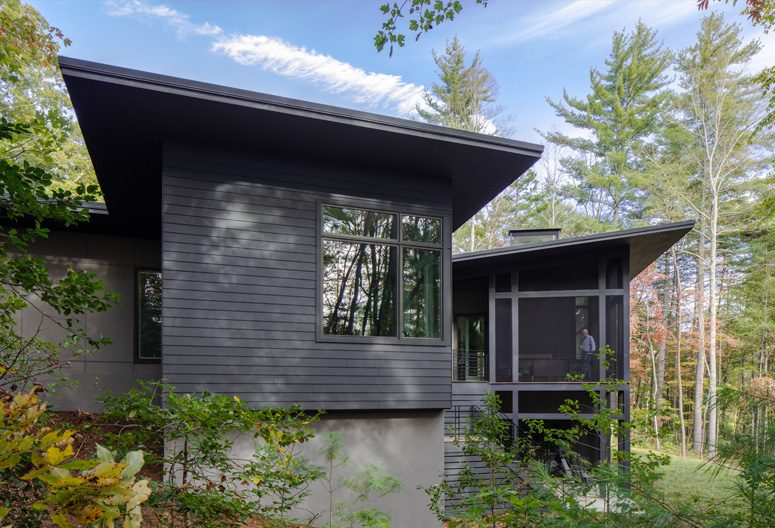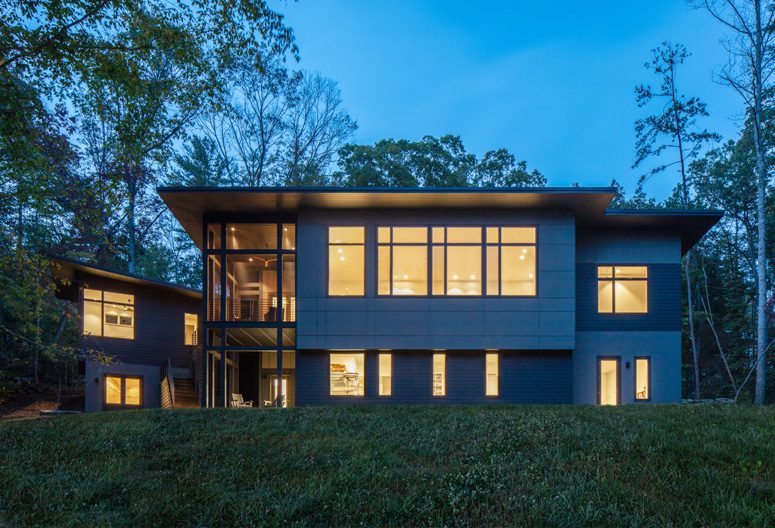 The home's form is simple and geometric with a dark color palette. The low-profile and flat roof help it blend into its surroundings. The contour of the home splits at an angle with the main living spaces on one side and the garage and owner's suite on the other. The covered front porch offers refuge in the summer from the sun, while southern-facing screened porch with fireplace allows for year-round enjoyment of the outdoors.
Inside is a spacious home with three bedrooms and a large great room on the main level. The interiors have a clean, light aesthetic – in contrast to the exterior. The foyer ceiling is painted a dark gray to create continuity upon entry. Beautiful oak wood floors are used throughout the residence to warm up the crisp interiors, aided by the owner's unique collection of art and pottery. This gray-scale color palette lets the views from the generous windows remain the focus.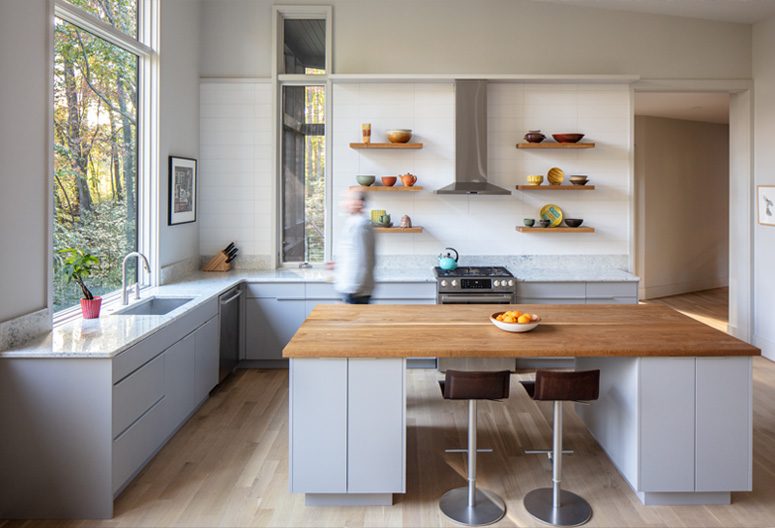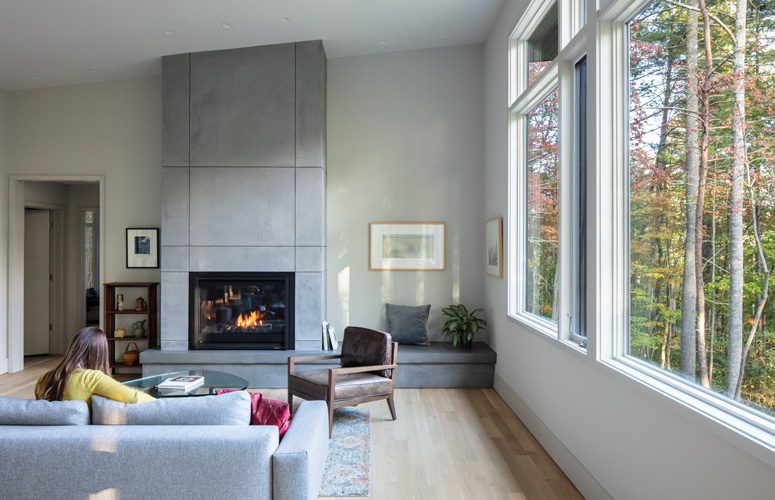 The kitchen is minimal, using only base-cabinet storage to keep the great room feeling uncluttered. A pantry room is located off to the side and holds the refrigerator and other appliances. The island uses a wooden slab that matches with the open-shelving above the range. Opposite of the kitchen is the cozy fireplace that looks to be made of concrete, but is actually custom plasterwork by a local craftsperson. The fireplace hearth extends to the wall and creates a perfect perch to read a book by the fire.
This home was built with Sulaski & Tinsley Homes and is located at the Sovereign Oaks community. See more images of this project at the project page here.