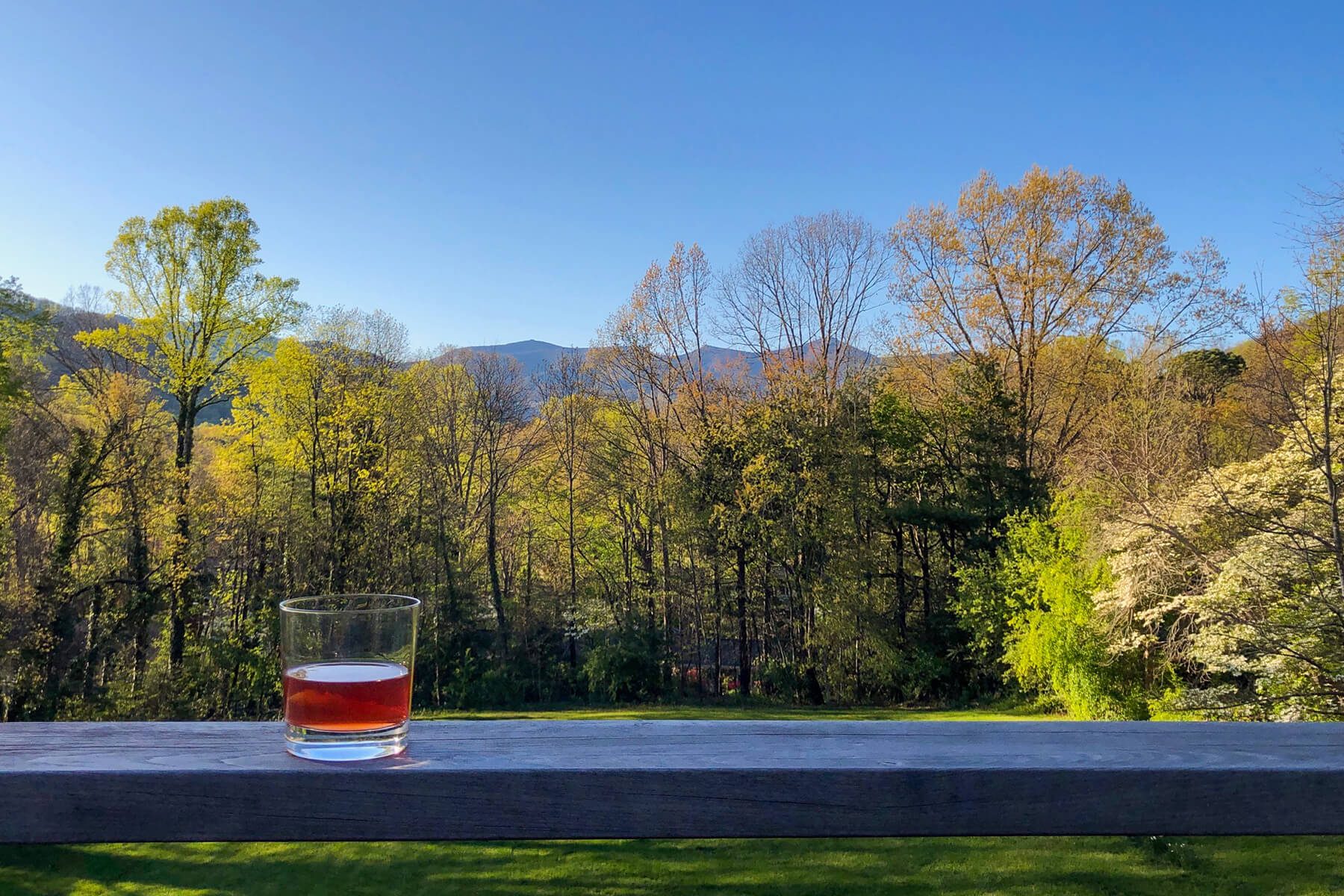 Sunsets and Sazeracs at Black Mountain Renovation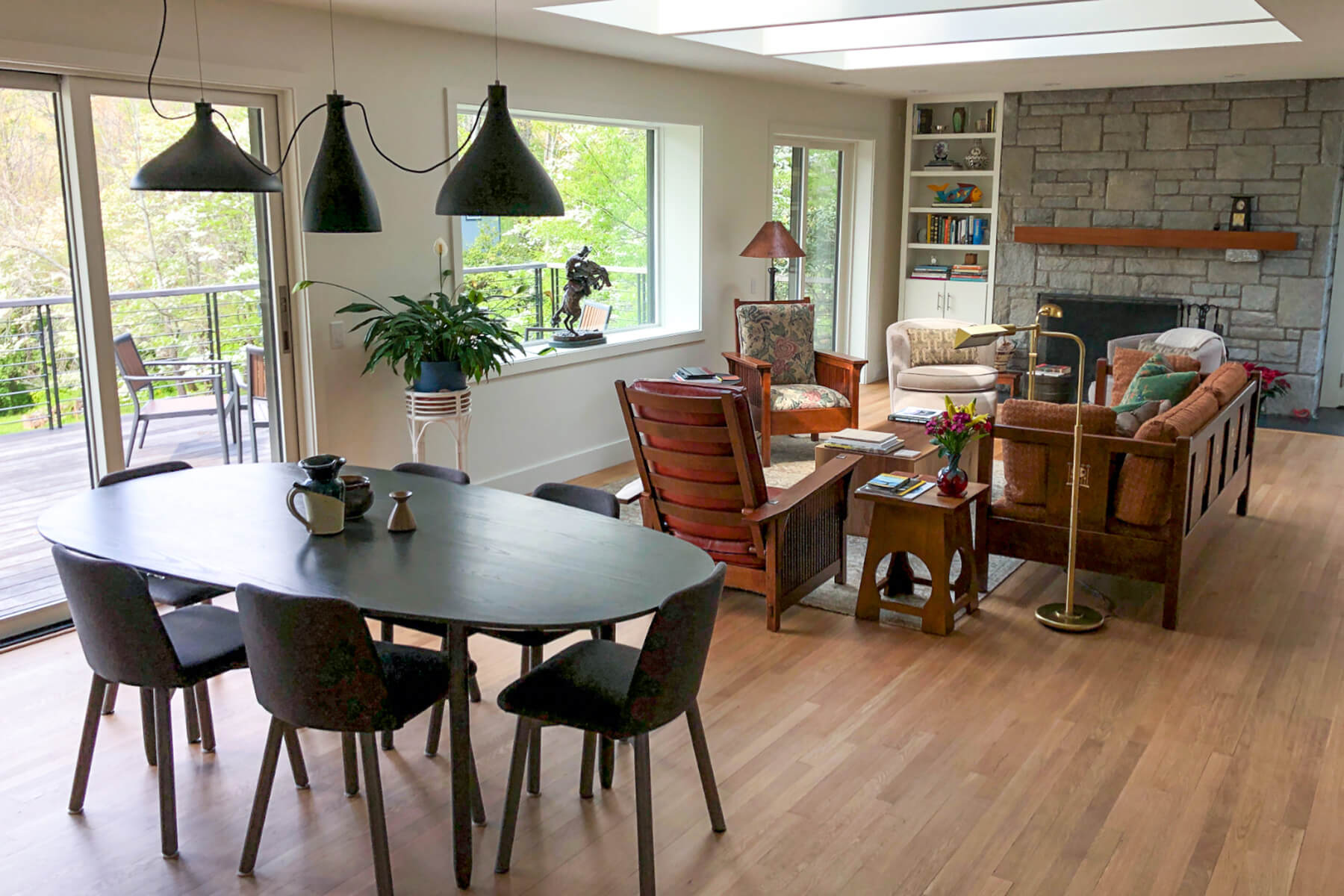 Breathing new life into existing homes is a source of inspiration for us and our clients. We were happy to hear from our client about the joy their re-imagined spaces have given them through the Coronavirus pandemic. The value of a beautiful home is keenly evident right now.
Our clients wanted to update their 1920s stone home in Black Mountain by bringing more light into the home and capturing the view of the nearby Craggy Gardens. The clients envision spending several more decades in the house and challenged us to make the home easier to navigate with open gathering spaces and connectivity to the outside. Their home, nicknamed 110, has become a calming refuge during this uncertain time. "We love it here and feel at home," said the owner.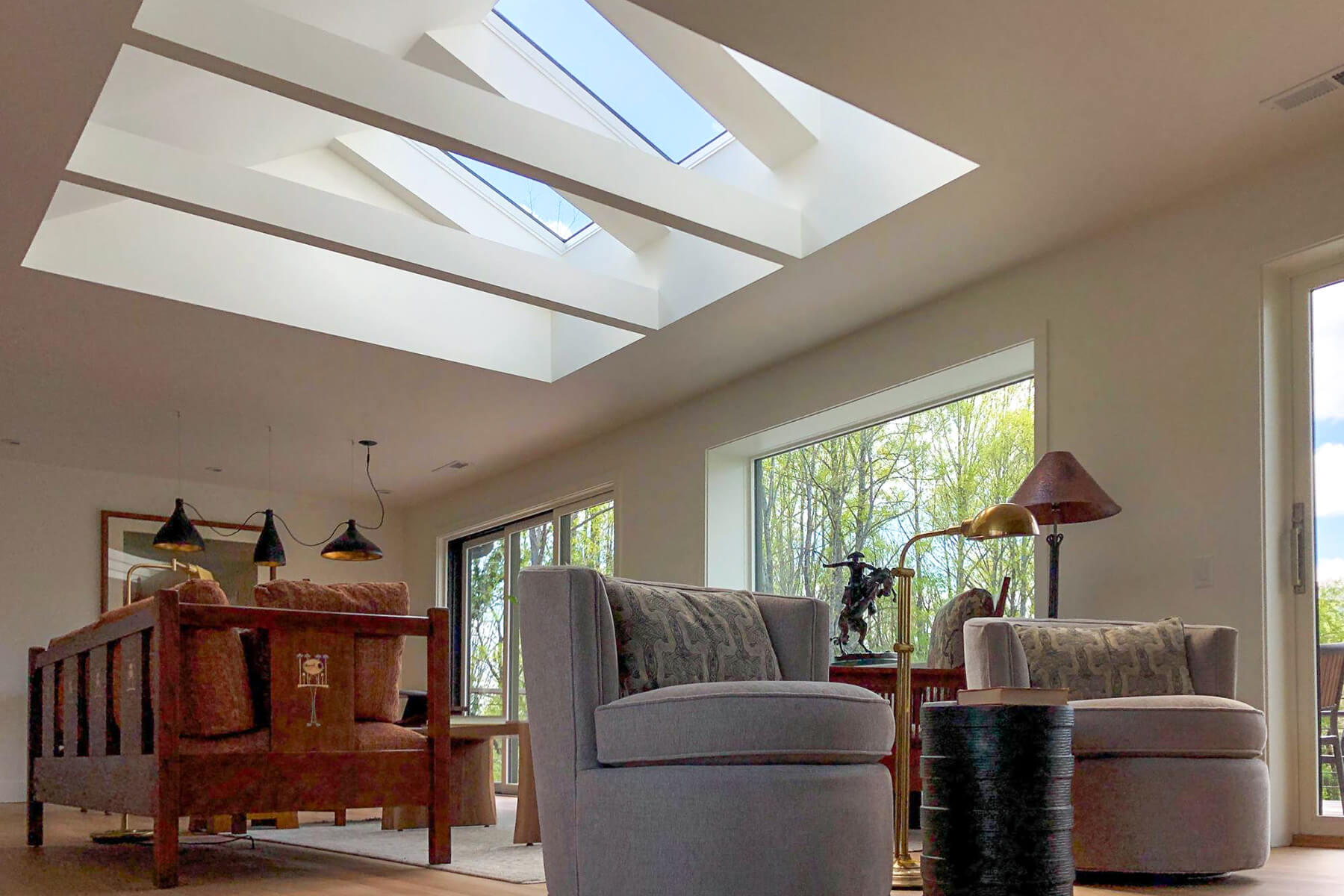 The opportunity to redesign the home allowed for the addition of a deck, screened porch and patio, as well as skylights in the living room to invite more natural light into the main level.
A new open kitchen connects to the main living space and the addition of new entry, laundry and mudroom enables our clients to live entirely on the main level if needed in the future. The house is perched on a hill, allowing for a walk-out lower level which includes a home office and home theater.
The original house had significant structural and water damage. Working closely with the contractor, O'Neill Custom Builders, we were able to save the majority of the framing and all the original stone. We also collaborated with Tamara Gavin on the interiors.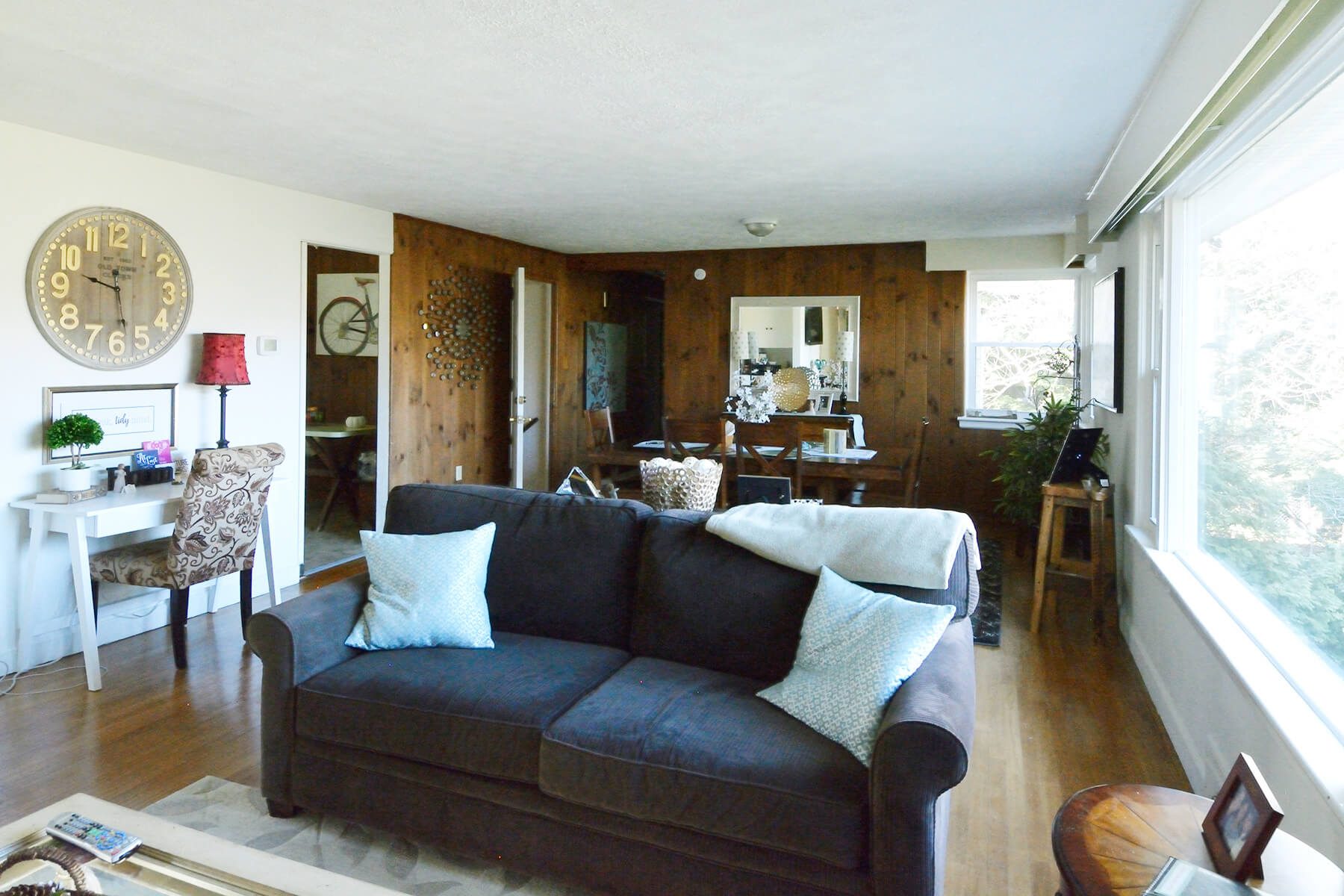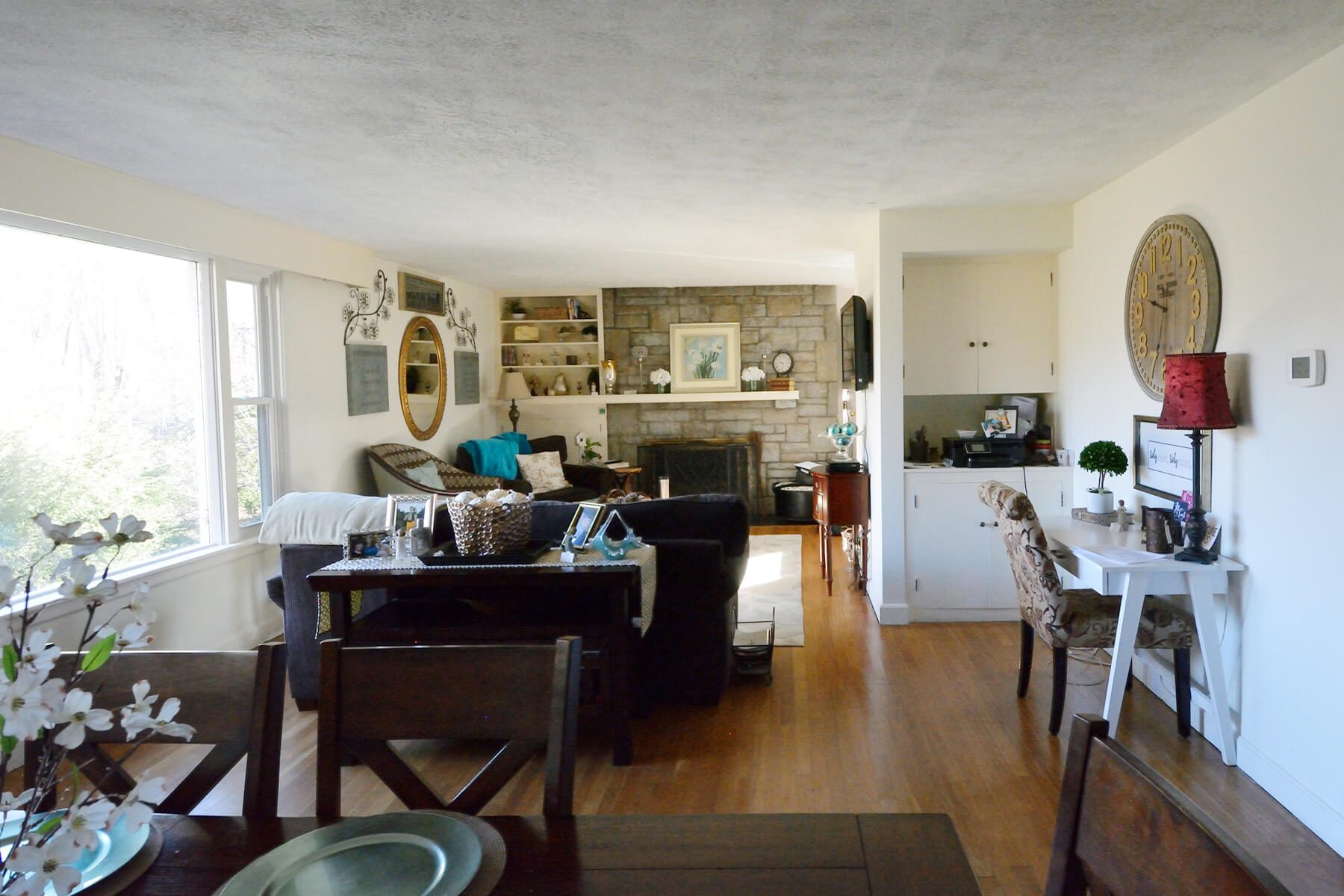 Main Living Space Before Renovation
From the owners:
Throughout the day we're reminded of the luminosity and transparency of the house.  Every room invites the outdoors inside. Whether its Craggy Gardens on the horizon or dogwoods and azaleas in the yard, Nature is a welcomed part of our daily lives. The space design of 110 is practical. The openness of the kitchen with the living room and dining area invites conversation, reading or listening to music. And, at the end of the day, the living room deck offers a wonderful place to enjoy the sunset and a Sazerac.  Here's to your good health.