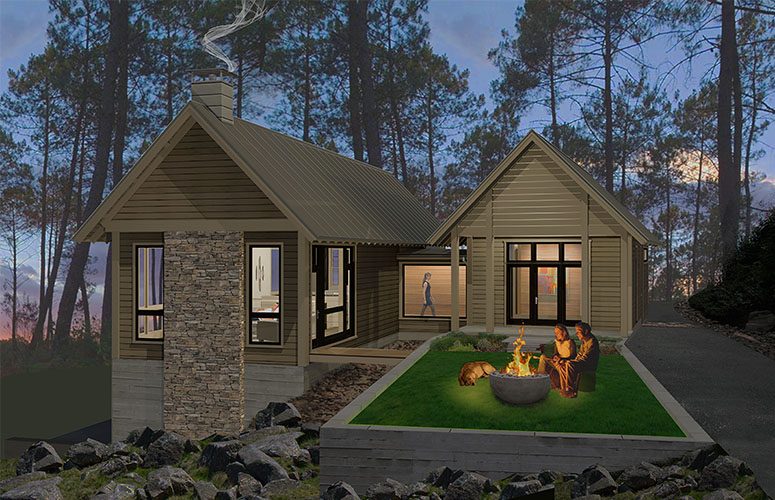 Lakeside Cabin Featured in Carolina Home + Garden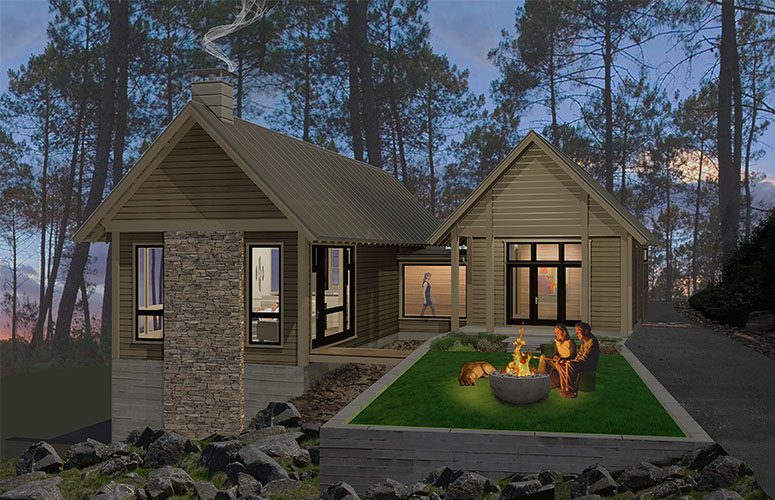 The current edition of Carolina Home + Garden features one of our newest projects at Lake James. A young family recently came to us with a vision for a simple, yet elegant cabin in the woods. The property they chose is deep in the woods and boasts lake views and a wooded setting. The two key goals expressed by the owners for their home were adaptability and expandability. They wanted this home to feel comfortable whether there were two people there or ten.
The result is a cozy getaway that nestles into the forest parallel to the existing topography. The form of the home consists of two cabins connected between by a transparent "bridge." The division allows one portion of the house to be closed off when not needed yet the flexibility for them to live big when the house is full.
A meandering drive along an old logging road brings you to the home site, where an outdoor fire pit is the first element to greet you. The garage structure is set back to the southwest, allowing the family to leave the car behind as they enter their retreat. Upon arrival at the cabin, a ground level sitting porch welcomes you into the cabin. The rotation of the cabins on the site allow for optimal views of the surrounding forest and Lake James. These views are experienced through large expanses of glass used throughout the living spaces and bedrooms. A bridge off the main living space flows seamlessly onto a linear lawn, perfect for enjoying the view by the fire or for setting up a tent.
We are very excited to be working with this family and to see this cabin in the woods realized! See the article on Carolina Home + Garden's web site here or pick up a copy today!